Super Riley's Journey
Riley was diagnosed with Wilms Tumour just as the country went into lockdown 1.0. It was completely unexpected and devastating news, as he was rushed to hospital for immediate treatment. His Mum has had to stay alone with him in hospital throughout his treatment, leaving his two older siblings with his Dad. This separation has been very hard for the whole family, as due to Covid regulations, Riley is not allowed any visitors. Riley's treatment of chemotherapy, radiotherapy and surgery to remove his affected kidney, has really taken its toll on him, and he has been extremely poorly. In addition, the family were told in August that the cancer had spread to Riley's lungs, abdomen and pelvis, and his chemotherapy treatment was stepped up. He faces yet more radiotherapy and possible surgery, and is also waiting for a stem cell transplant.
Riley's Mum says that in spite of having many days when he simply couldn't get out of bed, Riley has been a little Superstar and keeps smiling! Go, Riley! We're all rooting for you and send you strength and all our love and best wishes!
Super Riley's Diagnosis
Around 90 children are diagnosed with renal (kidney) tumours every year in the UK. Of these approx 80 are Wilms' tumour. Find out more about Wilms Tumour
The Supershoes
Super Riley absolutely loves Peppa and George Pig and Hey Duggee too. His favourite colours are blue and green. As you can see, Super Artist Emma B has captured all his requests perfectly, and the Supershoes helped to keep Riley smiling.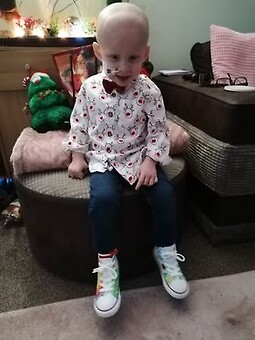 Super Riley's Gallery