William's Journey
There is no doubt that Super William is very deserving of his Supershoes! He is one incredibly brave little boy following a diagnoses in March 2019 with Medulloblastoma, a brain tumour that had also spread down his spine. Since diagnosis William has faced gruelling treatment including a biopsy, five and a half intensive chemotherapy course, a stem cell blood harvest, brain surgery, more high dose course of chemo and stem cell transplant and lots of blood transfusions. While going through all this William caught chicken pox shingles, e-coli, a fungal infection, developed sepsis and has had to learn to walk again. William's mum told us that despite all of this William keeps on smiling.
Following a recent scan in June, the family have been told the very sad news that the doctors are unable to cure William of cancer. This incredibly brave and inspirational family are taking each day as it comes, finding ways to help William feel really happy.
Super William is a huge inspiration to us all. He never gives up and despite all the challenges he battles on always with a smile on his face.
William's Diagnosis
Brain and spinal cord tumours are the most common form solid tumours found in children with around 400 being diagnosed each year in the UK. Find out more about Brain & Spinal Tumours
The Supershoes
Dinosaurs, diggers and jungle animals was the design brief for William's Supershoes. Super Artist Kelly added a lion to represent just how brave William is.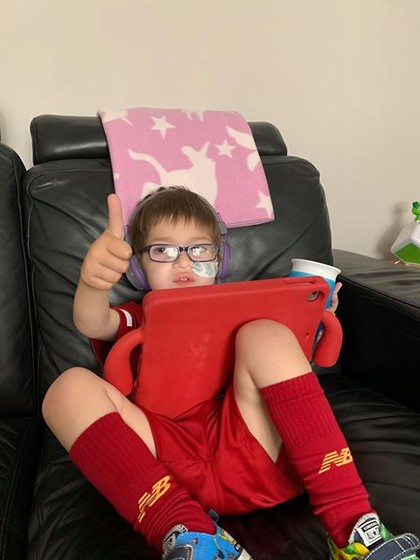 William's Gallery