Orla's Journey
This little cutie is 4 year old Super Orla, shown in the photo on her 1st day of school. She is a massive Ben & Holly fan who also loves butterflies and anything glittery!
Orla was diagnosed with a grade IV brain tumour at 10 months old. Her parents were told she had 6 weeks to live. She was put on a course of palliative chemotherapy with the hope of slowing the growth of the tumour.
Amazingly she had this chemo for 2 and a half years and has maximised the full dose.
They are currently on watch and wait.
Orla also suffers from epilepsy, has had 2 brain haemorrhages and was left hemiplegic until very recently when she has started to walk while holding hands for short distances. She has undergone 9 separate neuro-surgical operations.
Orla's Diagnosis
Brain and spinal cord tumours are the most common form solid tumours found in children with around 400 being diagnosed each year in the UK. Find out more about Brain & Spinal Tumours
The Supershoes
Touched by Orla's story, Sarah wanted to create Super Orla's Supershoes herself and received this lovely message afterwards…
Thank you so much. Orla loves her Supershoes. She saw her name on them straight away so knew they were made for her. She won't put them on yet - just holds them and shows them to people, but I think it's because she loves them so much!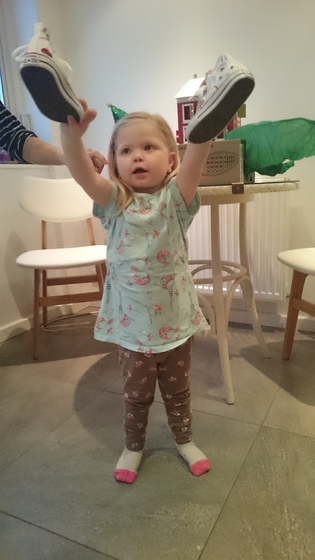 Orla's Gallery