Super Finnley's Journey
Finnley's treatment for ALL is in its early stages, but has involved some procedures that his parents describe as "horrible and soul-destroying". Through it all, Finnley has managed to smile, thank his doctors and nurses and he refuses to be beaten by the challenges being given to him. Finnley is his family's very own Superhero, and although treatment for his cancer has changed his looks, his kind-natured soul still shines through.
Sometimes, during the constant hospital visits, tests, treatment and endless waiting for results, it can feel as though a child loses their identity a little. That's one of the reasons why a pair of Supershoes is so important. They encapsulate all the things that child loves and reminds them of who they are, above and beyond their treatment.
Super Finnley's Diagnosis
Acute Lymphoblastic Leukaemia (ALL) is the most common form of leukaemia in children under the age of 14, affecting around 400 each year. Find out more about Acute Lymphoblastic Leukaemia
The Supershoes
Finnley loves Puffin Rock, and his favourite colour is red. His best-loved character from Cars is Lightning McQueen and he's a huge fan of Blippi from YouTube. We made sure we included all these on Finnley's Supershoes.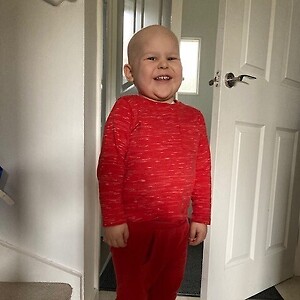 Super Finnley's Gallery