Super Lydia's Journey
2 year old Lydia was diagnosed with ALL and has since been really accepting of what is happening to her. She is a very smiley, happy child and her family think she is very deserving of a pair of Supershoes to give her a real boost during the tough times.
Super Lydia's Diagnosis
Acute Lymphoblastic Leukaemia (ALL) is the most common form of leukaemia in children under the age of 14, affecting around 400 each year. Find out more about Acute Lymphoblastic Leukaemia
The Supershoes
In her parents words, Lydia is a 'quirky' child who is very girly and loves pink but would also very much like pirates and characters from her favourite Cbeebies programme 'Swashbuckle' included in the design.
"A big thank you for Lydia's Supershoes! She absolutely loves them and wears them all the time! Her shoes arrived on her little sisters first birthday, which was a very special surprise for her. Thank you so much."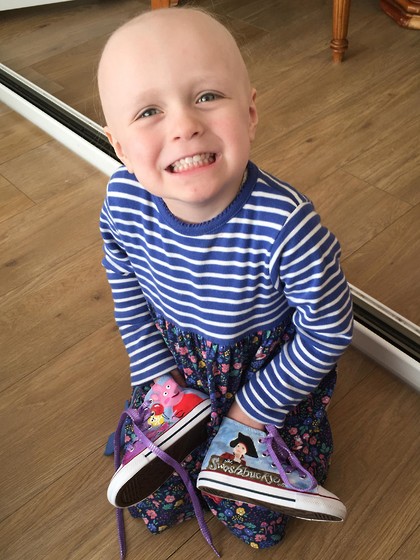 Super Lydia's Gallery