Super Marshall's Journey
Marshall is 3 years old, and he often gets called 'Murph'!
Marshall started to get poorly just before his 3rd birthday after previously being a super happy and energetic toddler. After suffering from a combination of both severe and random symptoms and following multiple trips to the GP Marshall was finally given a blood test which confirmed within 24 hours his diagnosis of Leukaemia and was the start of being in hospital for an intense period of treatment.
He's now 7 months into 3 years of treatment which has included weekly general anaesthetics to do lumbar punches, intravenous chemotherapy and heavy steroid treatment. To prevent Marshall from infection due to his weak immune system the family now live in protective isolation which has also meant Marshall's little brother is no longer able to attend nursery.
Marshall's family also describe him as 'hilarious' and full of life when he is feeling well. He has even taken on the charterer of Super Marshall before his shoes arrived and regularly dresses up wearing a superman t-shirt and cape, and telling everyone "I'm Super Marshall".
"Unfortunately one of the side effects of the treatment can be a lack of energy and weakness in his legs, so much so that he doesn't want to walk. I hope that with the gift of Supershoes it will encourage him to get his Supershoes on and that we can get out adventuring as much as he can, because the more he can do the better!" - Marshall's Mum
Super Marshall's Diagnosis
Acute Lymphoblastic Leukaemia (ALL) is the most common form of leukaemia in children under the age of 14, affecting around 400 each year. Find out more about Acute Lymphoblastic Leukaemia
The Supershoes
On his Supershoes Marshall wished to have the following: Marshall from Paw Patrol, a Fire Engine … and lots of colours!
They arrived in April 2020, and as his mum describes … "What a lovely surprise for him to get these amazing new Supershoes! Huge thanks to Sally and to everyone at Supershoes."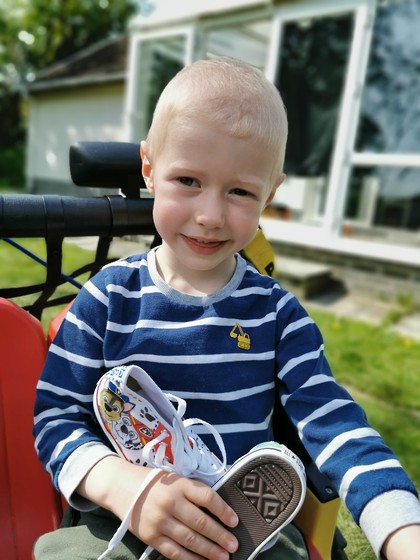 Super Marshall's Gallery