Isabella's Journey
This tiny little tot is Super Isabella. She's not even 6 months old yet, but she's already discovered the fun of playing peek-a-boo!
She was born in August 2015 and just 4 weeks later, diagnosed with a Primitive Neuroectodermal Tumour (PNET) which is a type of brain tumour.
Super Artist Jon has an amazing talent for painting such tiny Supershoes and was quick to volunteer to create Isabella's too.
Isabella's Diagnosis
Brain and spinal cord tumours are the most common form solid tumours found in children with around 400 being diagnosed each year in the UK. Find out more about Brain & Spinal Tumours
The Supershoes
Thank you so much for Isabella's Supershoes! They are amazing & we love them, thank you so much! Please can you pass on our thanks to Super Artist Jon and let him know how amazing we think they are - and he is!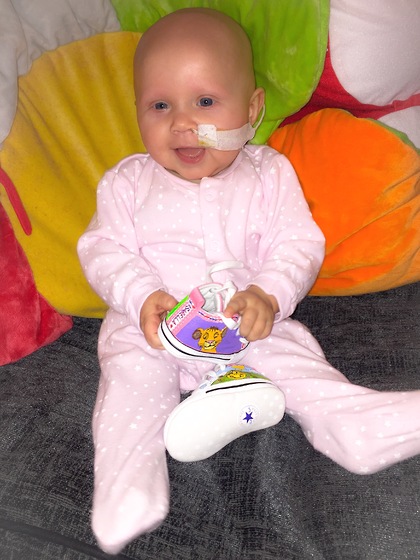 Isabella's Gallery