Theo's Journey
Theo's development was very normal. Sitting unaided, crawling and eventually walking by 13 months. He was a chunky baby with lots of rolls. His walking never became 'natural' though and was always wobbly as if he was just too heavy for himself. He repeatedly fell over more and more often.
In September 2013 his mum started to feel there could be something wrong but their health visitor suggested getting him a tricycle to strengthen his leg muscle. Then Theo's childminder noticed he wasn't using his right arm and the following day Theo couldn't walk in a straight line so his mum called 111 immediately in tears. They suggested she take him to the local hospital but the doctor wasn't convinced there was anything particularly wrong. His symptoms were only very subtle but they were told to come back the following day as it was so busy and very late.
Shortly after 9am the next day 2 doctors analysed his right sided weakness. It was then they wanted an immediate CT scan. Waiting around in the ward his mum knew there was something wrong and could barely talk from crying so much.
Early afternoon they were called to a side room, without Theo. His mum recalls "It was then the words 'there is a lesion in your son's brain around 3cm in size plus some fluid'. Nothing could ever prepare you for those words. Everything is just a blur from then. I couldn't quite digest the information all I remember thinking this couldn't be happening to us, this happens to other people! I was just in shock. We were told to pack our things and get to John Radcliffe Hospital as they are more specialised than Reading in this area"
They remained in John Radcliffe for the following 5 nights. It was explained that the tumour was inoperable however they need to obtain a biopsy to find out what type of tumour it was. Also the fluid needed draining as there was a cyst too.
After the surgery his face and head began to swell. It was horrendous. He was unrecognisable but Theo recovered remarkably and they were able to leave hospital on his sister's 5th birthday!
Once the pathology was back, they were told the tumour was a Grade 1 Pilocytic Astrocytoma, so the 'kinder' brain tumour to have. However the oncologist still had an 18-month Chemo protocol for Theo to go on.
Theo had 18 months of chemo, 13 blood transfusions, 3 platelet transfusions, many nights in and out of hospital due to fevers and being neutropenic (no immune system), lots of IV antibiotics and other medicines for pain, constipation etc.
Theo is now 4 years old and is awaiting his first off treatment scan, he is doing great and even has hair! The tumour will always reside within his brain though. It is too risky to remove and it likely he will require more treatment whether that be surgery, radiation or chemo and quite possibly repeatedly over many years.
Theo's Diagnosis
Brain and spinal cord tumours are the most common form solid tumours found in children with around 400 being diagnosed each year in the UK. Find out more about Brain & Spinal Tumours
The Supershoes
Thanks so much - Theo loves his Supershoes!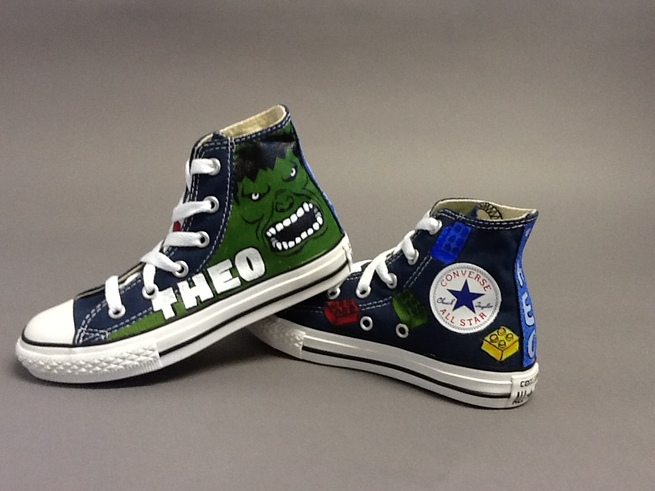 Theo's Gallery