Super Daniel's Journey
"The effect of the cancer was very sudden. After just a few days with a sore back Daniel was paralysed, as the tumour wrapped around his thoracic spine. Spinal surgery to remove the tumour compressing his spine followed by very aggressive chemo, so its been a tough time. Not only contending with cancer but with repairing mobility. As we complete his Supershoes form, Daniel has done his first steps with a walking frame."
UPDATE:
"It's been a year and a bit since my son, Daniel, received his Supershoes. He was in a wheelchair due to the spinal cord compression trauma caused by his tumour for most of 2019 but still wore his shoes whenever he could. He's made a great recovery - Burkitt's Lymphoma in remission and lower body function (almost) back to normal."
Super Daniel's Diagnosis
Find out more about Lymphoma
The Supershoes
Super Daniel loves Star Wars and hand drew all the elements that he wished our Super Artist to include in the design. This included his name in Star war lettering, Plo Koon (his favourite character), The good ships on one shoe and the bad ships on the other, and all on a galaxy background.
"Thank you so much for the Supershoes. Please pass on his, and our thanks to the artist as well. As an aspiring artist himself, Dan says "awesome!!!!"
After a year of use Super Dan was happy to be able to take his Supershoes out for one last time to go see the new Star Wars movie last month.
"We want to say a massive thank you! for the work you do, and please pass on our thanks to the talented artist that was involved as well, they inspired Dan to take his art more seriously at school."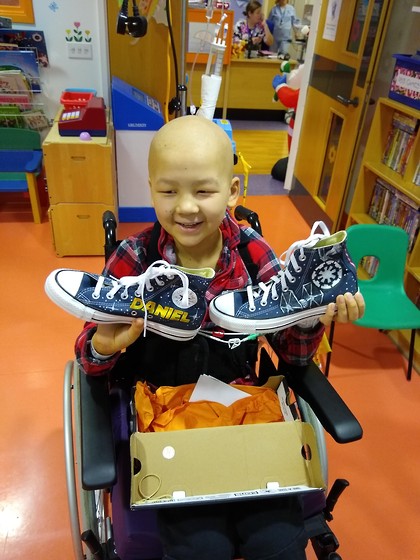 Super Daniel's Gallery