Super Jack's Journey
In 2013, aged 13 Super Jack was diagnosed with Acute Lymphoblastic Leukaemia.
He received one of our very early pairs of Supershoes back in 2014 and was thrilled with them. Super Artist John did a great job!!
Super Jack's Diagnosis
Acute Lymphoblastic Leukaemia (ALL) is the most common form of leukaemia in children under the age of 14, affecting around 400 each year. Find out more about Acute Lymphoblastic Leukaemia
The Supershoes
Wow, they are fantastic, Jack loves them and can't wait to wear them for school this afternoon.
We've recently been in touch with Jack's family who told us that Jack is doing so well. He finished his treatment in Sept '16 and has thrown himself into studying to become a doctor.
He missed most of 3 years at high school but caught up with a home tutor in 6months, passed his GCSEs with good grades and is now at 6th form college.
What an amazing achievement!! His family are so proud of him, and so are we! Good luck in this next chapter Super Jack - We think you'll make a super Doctor!!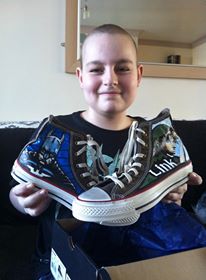 Super Jack's Gallery