Super Wils's Journey
Wils (or using his proper name Siôr) was diagnosed with Acute Myeloid Leukaemia in July 19 and is now home and in remission.
"Wils is the bravest, funniest and kindest boy in the world and was stoic throughout his illness. We, as a family are so proud of him."
Super Wils's Diagnosis
The second-most common form of leukaemia in children, after Acute Lymphoblastic Leukaemia with roughly 70-80 new cases diagnosed in children each year. Find out more about Acute Myeloid Leukaemia
The Supershoes
Super Wils is the biggest Welsh rugby fan and asked for his heroes Alun Wyn Jones and George North to be painted on his Supershoes; along with the welsh flag and a rugby ball of course!
"Designing and even just thinking of initial ideas and possibilities for his Supershoes kept Wils engaged and distracted during treatment. So, to receive these amazing shoes a few days ago was fantastic. Thank you so very much for Wils' Supershoes. As you can see, he absolutely loves them! Truly thank you to everyone that put a smile on his face. Doing what you do to make a child feel like a child again is truly inspirational."
Wils is hoping to get the opportunity to meet his two heroes in the future and we will be sure to keep you posted when he does.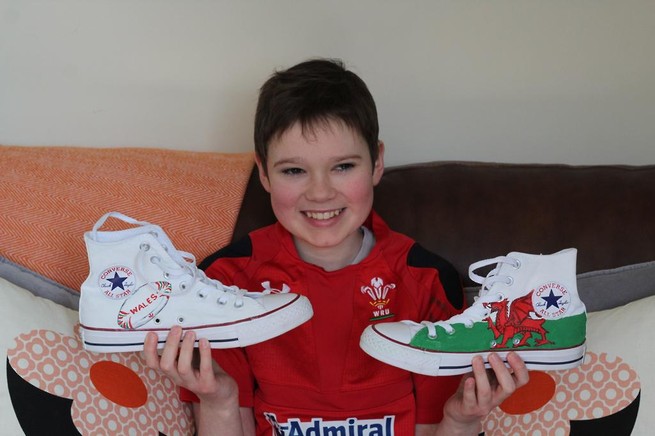 Super Wils's Gallery