Super Roonagh's Journey
2 year old Roonagh was a premature baby (3 months early) and had open heart surgery in 2018 to repair a tetralogy of fallot.
" When we were due back for our monthly check after surgery Roonagh was diagnosed with liver cancer and transferred to London and then Cambridge. It was confirmed that Roonagh would need a liver transplant as the cancer was in all sections of her liver. She successfully had a liver transplant in May 2019.
Super Roonagh's Diagnosis
Tumours of the liver (known as hepatic tumours) are very rare in childhood. Up to 20 children are diagnosed each year in the UK. Find out more about Hepatoblastoma / Hepatocellular Carcinoma
The Supershoes
Roonagh loves Cbeebies especially the baby club!
"She dances, wiggles and claps along to the baby club together song."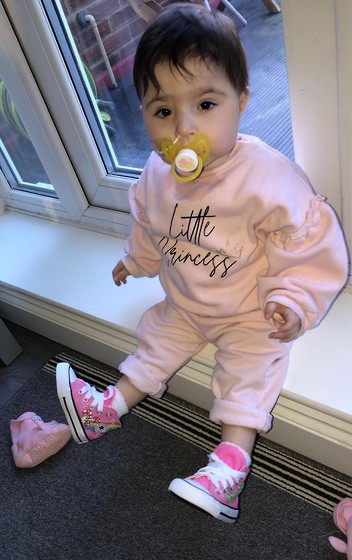 Super Roonagh's Gallery