Harry's Journey
16 year old Super Harry loves Strictly Come Dancing. His parents told us that the popular TV show is his 'passion' and in Feb 2014 he met Abbie Clancy, Susanna Reid, Deborah Meaden and the rest of the 2013 contestants & professional dancers.
At that time, Harry was mid-chemo after being diagnosed with Adenocarcinoma.
Super Harry (who is also Autistic) was referred by CLIC Sargent, who provide help & support to children & young people with cancer.
Harry's Diagnosis
Around 45 children in the UK are diagnosed with Germ Cell Tumours each year and they can affect children of any age. Find out more about Germ Cell Tumour
The Supershoes
Super Artist Diane painted some really super-special Supershoes for this super young man and Harry's mum contacted us to let us know that he thought they were super too!
Thank you so much for Harry's shoes which really are super. He is not too well at the moment and having chemo but we hope to get home for his 17th birthday and he is planning to wear his shoes to his party. The shoes are brilliantly and lovingly designed so please thank your artist.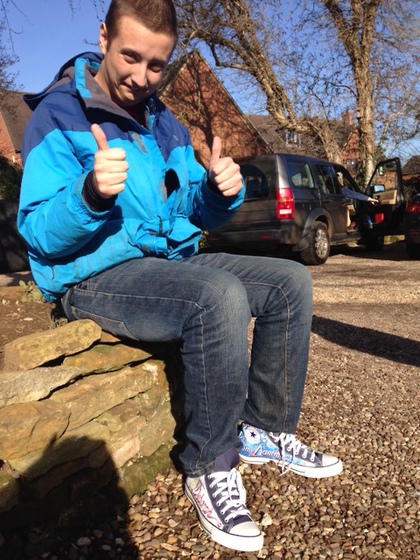 Harry's Gallery