Super Oscar's Journey
Super Oscar was just 3 years old when he suddenly stopped walking. To begin with, no one could explain what was wrong. Then he began to lose weight, showed signs of bruising, and spiking temperatures. Oscar was sent for tests and the devastating diagnosis of Acute Lymphoblastic Leukaemia was given to his family. Mum Rebecca tells us Oscar has been Super brave throughout his treatment, and his cheeky personality and big smiles are carrying him through. She says he amazes her. Well, we think you're amazing too, Oscar! Have fun wearing your Supershoes!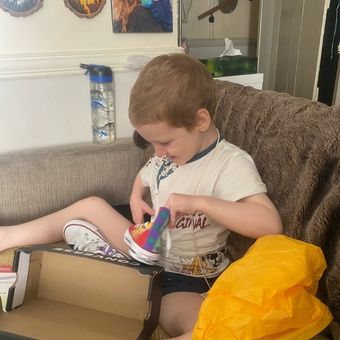 Super Oscar's Diagnosis
Acute Lymphoblastic Leukaemia (ALL) is the most common form of leukaemia in children under the age of 14, affecting around 400 each year. Find out more about Acute Lymphoblastic Leukaemia
The Supershoes
Oscar's favourite colours are red and purple. He also asked for Iron Man and characters from My Little Pony: Twilight and Spike. No problem! Super Artist Aimee made sure they were right there.