Super Benjamin's Journey
Benjamin was diagnosed with ALL when he was just three. For half of his life, he has only known hospitals, needles, steroids, and chemotherapy. Over the last three years, he has gained weight, lost weight, and grown very tall for a 7-year-old. Steroids will do this to you! He has been supported all through his journey by his loving big sister Emilia who is very protective of Benjamin, and of course, his loving parents too. Just this week, he finished treatment. Benjamin's parents wanted to wait until now to apply for his Supershoes because they wanted to mark the end of his treatment with something extra special. And as you can see, they didn't disappoint! Benjamin's face is a picture as he sees all his favourite things on his Supershoes. We hope you wear them with pride, Benjamin!
Super Benjamin's Diagnosis
Acute Lymphoblastic Leukaemia (ALL) is the most common form of leukaemia in children under the age of 14, affecting around 400 each year. Find out more about Acute Lymphoblastic Leukaemia
The Supershoes
Benjamin asked for Shaun the Sheep, Mario and Lightning McQueen, along with his favourite colour, green, to be featured on his Supershoes.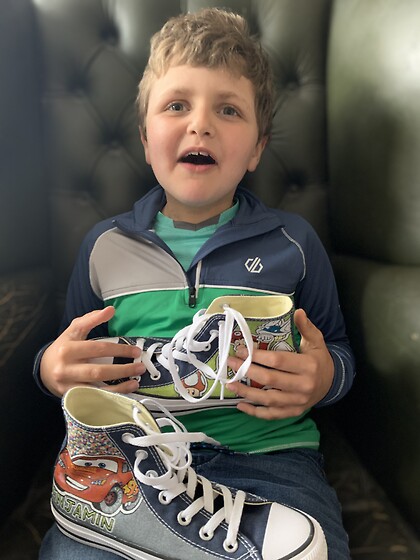 Super Benjamin's Gallery