Finlay's Journey
Finn was diagnosed with Acute Lymphoblastic Leukaemia on Christmas Eve 2014, when he was three years old. He will complete his treatment in March 2018, by which point he is likely to have had over 1000 doses of chemotherapy, hundreds of blood tests and spent the equivalent of 8 months on steroids. Finn will be coming up to the half-way-point of treatment very soon, and a pair of SuperShoes seemed like a wonderful way to mark how far he has come and the incredible bravery he has shown.
Finlay's Diagnosis
Acute Lymphoblastic Leukaemia (ALL) is the most common form of leukaemia in children under the age of 14, affecting around 400 each year. Find out more about Acute Lymphoblastic Leukaemia
The Supershoes
We wanted to say a huge thank you for Finn's fantastic Superhoes - He loves them! As well as the brilliant Ninjago characters, he's so happy that his favourite story about a chameleon who sits on a tiger's tail now appears on his shoes too. The story has great meaning to us, as it is one we have cuddled up with and read many, many times during his treatment. Big thanks to Super Artist Des too.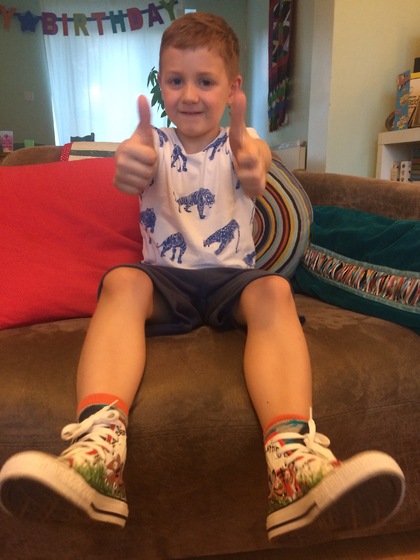 Finlay's Gallery