Finlay's Journey
Super Finlay has been through a very long and hard journey…..
He was diagnosed with Acute Lymphoblastic Leukaemia (ALL) in Jan 2013, aged just 2 and whilst they were told treatment would take 6 months, he underwent a number of complications that resulted in chemo lasting nearly 18mths.
At this point his family took Finlay on an amazing holiday to celebrate 'the end', only to return home to find he had relapsed whilst on maintenance treatment. They hadn't even unpacked from holiday before chemo started again.
This time, Finlay was now aged 4, chemo was followed by total body radiation and a bone marrow transplant. The bone marrow transplant itself went well but they had to spend 4 months in isolation. However the good news didn't last long and he ended up with more complications - his bowels stopped working and he had to be fed via his heart for nearly 3 months, and then in October 2015 he suffered complete kidney failure due to an aggressive virus in his kidneys.
Finlay is now on home dialysis every night. His parents hope at some point in the future that the virus that is still in his kidneys goes away and he will then be allowed on the transplant list, but this could take a number of years. Through the whole ordeal, Super Finlay has been amazing. He is such a happy little boy, despite all the treatment he has had and continues to have!
Finlay's Diagnosis
Acute Lymphoblastic Leukaemia (ALL) is the most common form of leukaemia in children under the age of 14, affecting around 400 each year. Find out more about Acute Lymphoblastic Leukaemia
The Supershoes
Thank you sooooo much for Finlay's Supershoes. I can't even begin to explain how made up he was last night when we gave them to him. He even wanted to wear them to bed! Thank you so much for putting a smile on my little boy's face. Much love to you all!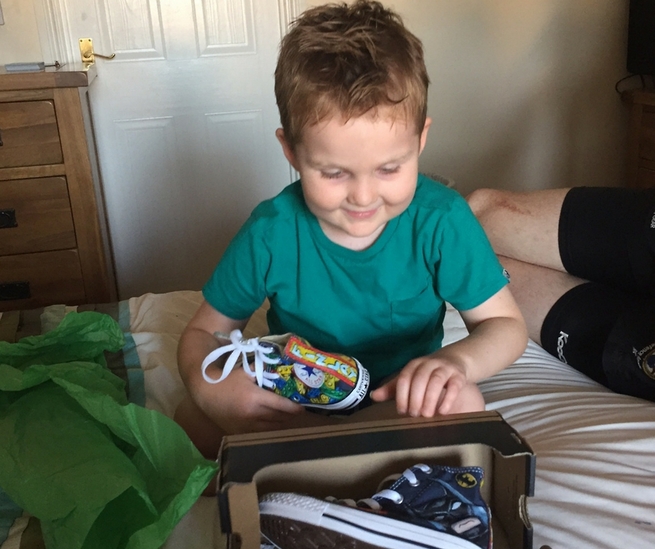 Finlay's Gallery