Bella's Journey
Super Bella is a girly girl who likes rainbows, glitter & princesses. In particular Belle from the Disney film 'Beauty & The Beast'.
In September 2014, Super Bella was diagnosed with Acute Lymphoblastic Leukaemia and is currently receiving both steroids and a prolonged chemotherapy treatment which is due to last over 2 years.
Bella's Diagnosis
Acute Lymphoblastic Leukaemia (ALL) is the most common form of leukaemia in children under the age of 14, affecting around 400 each year. Find out more about Acute Lymphoblastic Leukaemia
The Supershoes
And we were pleased to hear Super Bella thought so too - Just look at that smile!
Her mum told us…
She loves them and is the envy of her friends. Thank you so much!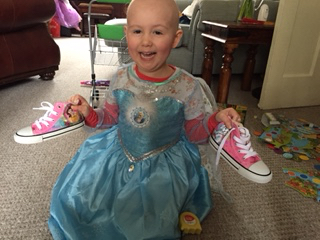 Bella's Gallery