Ruby's Journey
This gorgeous little lady is 4 year old Ruby. She loves Doc McStuffins and Dora the Explorer. She also enjoys ballet.
Her amazing Super Mum wrote a heart-wrenching blog post describing the awful day back in July last year when her, then 3 year old daughter, was diagnosed with Acute Lymphoblastic Leukaemia.
Ruby's mum heard about Supershoes from another mum on the oncology ward at Alder Hey Childrens Hospital, where Ruby was diagnosed and has been receiving her chemotherapy and steroid treatments.
The family are now actively fundraising for the hospital they credit with saving their daughter's life, through both JustGiving and Crowdfunder and by taking part on a safari trek later this year.
Ruby's Supershoes were allocated to the very capable hands of Super Artist Katy.
Ruby's Diagnosis
Acute Lymphoblastic Leukaemia (ALL) is the most common form of leukaemia in children under the age of 14, affecting around 400 each year. Find out more about Acute Lymphoblastic Leukaemia
The Supershoes
Super Ruby's lovely Super Mummy kindly got in touch after they received her shoes….
We have received Ruby's Supershoes - They are absolutely amazing and we were so moved by them! Ruby is in hospital at the moment so we took them into the ward yesterday and she was absolutely thrilled! She put them on straight away and paraded around the ward showing all the nurses. We cannot thank you enough and please pass on our absolute thanks to the very talented artist Katy. Keep up the fantastic work and thankyou again so much!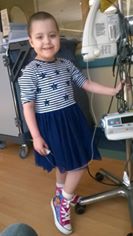 Ruby's Gallery