At Supershoes, we contact parents at least twice: when we check the details of their child's shoes, and also before we dispatch the finished shoes. Sometimes, parents share details of their child's treatment, or tell us about how they, and their family have been affected by cancer. We feel so privileged when they trust us enough to talk about what is a traumatic and highly personal experience. We also share the joy that a pair of Supershoes brings when they send us photos of their child opening, examining and wearing their shoes. It's wonderful to be part of that special moment: seeing the smiles and the joy.
One such set of photos made such an impact, that we felt we needed to know more. When Stanley's parents sent us pictures of Stanley opening his shoes, the utter joy on his face was just wonderful to see, and we asked Stanley's dad, George if he would be prepared to share a little more of Stanley's story with us. Luckily for us, he was happy to do so…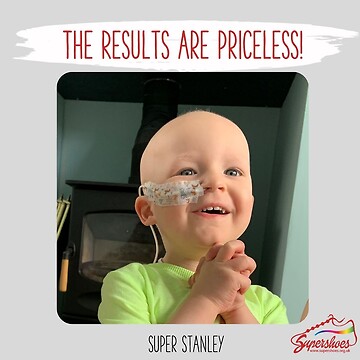 We sometimes hear from parents that they had a sixth sense that something serious was wrong with their child, before receiving a cancer diagnosis. At other times, we're told that receiving the devastating news came as an entirely unwelcome bolt from the blue. And so it was with Stanley.
From a slight temperature on Boxing Day 2019, to a bedtime tummy ache in early January, Stanley's parents suspected nothing more than a passing "something and nothing". Stanley was his usual chirpy 2-year-old self at nursery and at home apart from that niggle.
Maybe it was mother's instinct that persuaded Maree to take Stanley to the GP to just check him over, but that visit was the beginning of a rollercoaster of an experience that rocked their world, and continues to do so. Stanley was diagnosed with a Wilms' Tumour, which is a cancer of the kidney. Even worse, the cancer had spread to both Stanley's lungs.
To have a diagnosis like this at just 2 years old is totally heartbreaking for everyone. Stanley has an older sister and brother. While he received his treatment, which happened during the first national Covid lockdown, they had to go and live with their grandparents, because their mum and dad needed to be with Stanley, and also because they couldn't risk anyone becoming infected with the virus. This meant the whole family was split up for 5 months, while Stanley had 6 weeks of chemotherapy to shrink the tumour, then surgery to remove it. He then had another 9 hours of surgery, involving 3 surgeons and 20 nursing staff, to remove the tumours in his lungs.
Being apart from each other was so tough for everyone. Stanley missed his brother and sister very much. Their grandparents had just moved from a house with a garden to a smaller flat, and the four of them didn't leave that flat for 111 days in the early days of lockdown. Imagine that, with their brother seriously ill and only able to see their parents on FaceTime!
Stanley's treatment was horrible for him. One of the drugs they had to use made him very weak, and he kept losing his balance and falling over. He didn't want to get up and move about much because he'd lost his confidence, that is until he received his Supershoes.
Stanley's favourite things are Spongebob and Tom and Jerry. Stanley's parents filled out a form with his CLIC Sargent worker, who has been supporting the whole family through this difficult time. Supershoes works in partnership with CLIC Sargent, who send the referrals on. Once Supershoes receives the referral, the magic really starts to happen.
Supershoes has over 300 Super Artists based all over the country. Each week, a post goes out on their private Facebook page, with the shoes to be painted. The artists volunteer for the shoes they would like to paint. The subjects and styles will be different for everyone, but for Super Artist Paul, it was a no-brainer. He loves Tom and Jerry, so jumped at the chance to paint Stanley's shoes. Once the shoes were done and sent back to Supershoes HQ, they were posted on to Stanley.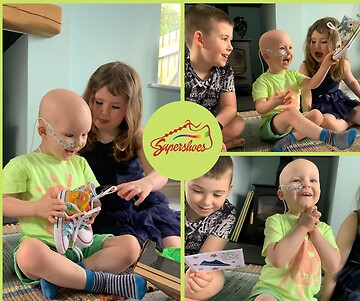 Sometimes parents prefer not to share photos of their children, but it's lovely when they are able to do so, and Stanley's were very special indeed. George, Stanley's dad, explained that Stanley was so excited and thrilled with his shoes, that they really did encourage him to try to walk properly, with the help of his physiotherapist. The Supershoes made such a positive impact, because Stanley was then keen to get out and about again. They helped him build up his confidence, and he was determined to walk around, so he could wear them, and show them off to everyone he met. And this was another positive benefit from the shoes: everyone wanted to ask Stanley about them, so he ended up talking to lots and lots of people all about his shoes, about himself and not about his illness. The focus for Stanley had changed. It was now about getting better and being him again.
And what of the Super Artist? Who is the man behind Stanley's beautiful shoes? Well, Paul is a secondary school teacher from London, who has always loved to paint and draw. He's been a Super Artist for nearly two years now, and like many of his artist colleagues, he has experienced the dark shadow of cancer in his family, and wants to make a difference to children and young people with cancer like Stanley. Paul was thrilled to see the happy photos too, and to know that Stanley loved his Supershoes as much as he enjoyed painting them.
Paul was thrilled to receive the positive feedback from George and Maree, Stanley's parents, who put into words how much the Supershoes had meant to them all: "Many thanks for all of the effort you put into making Stan's shoes so great. They were beyond what we had imagined. Whilst you may not see the reaction in person, you should be extremely proud of the joy you bring to children with cancer. He is so proud to show everyone his shoes."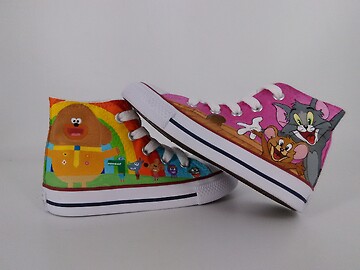 A pair of Supershoes is a force for good. We know how important it is for a child or young person to be an individual, not just a patient; to have their personality shine through; to be more than just a horrible disease. We will always strive to do whatever we can to empower these youngsters and a pair of Supershoes is a great start.
Update: Stanley's dad asked us to hold off posting this news article until Stanley had had a scan in January. We were so delighted to hear that Stanley has been given the "all clear"! Go Team Stanley!