Look, everyone! It's Team Blum UK! They look all relaxed and smiley in this picture, but they were about to do something not everyone might be so happy to do! These magnificent folk were about to take a leap of faith, quite literally!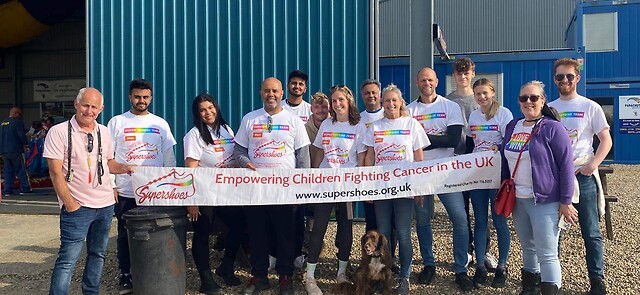 When our newest corporate sponsor, Blum UK decided to raise money for Supershoes, someone, who definitely won't remain nameless, suggested jumping out of a plane. This was a plan that was hatched after (now not-so) new employee Laura joined the company and told people about her hobby: skydiving! Blum UK is known to love encouraging its employees to raise money for charity, and so an idea was hatched. And instead of saying, "Are you nuts? Why would we do that?" 9 other colleagues agreed to join in. And so, one sunny (fortunately) Saturday in September 2023, which is, very appropriately, National Childhood Cancer Awareness month, they only went and did it!
On the Tuesday after their heroic jump, Laura and her colleague Janet, who organised the event, came to visit us at Supershoes HQ. We invited them, knowing that the Mayoress of MK was also going to be visiting, so they could be presented with their certificates of achievement by someone special!
After the presentation, Laura and Janet told us a little more about their experience. For Laura, who now jumps solo (!) it was "just another day at the office", and her 39th solo jump, but for Janet, it was her first attempt, and she absolutely loved it. Laura told us that being up there, all alone at 14,000 feet feels very peaceful, and as though her "reset button has been pressed". Apparently, it is 24 degrees colder at that altitude than at ground level, so winter jumps can be very chilly indeed.
The other team members were also enthusiastic about their experience, and we wanted to mention in particular Calvin, who is himself a childhood cancer survivor; what an amazing thing to do for us, Calvin, during this special month.
So far, the total sponsorship from Team Blum looks like hitting almost £3,000 with Gift Aid, which will buy 30 pairs of Supershoes, so we're all so, so grateful to you all, and to your management who also kindly paid for the jumps, enabling anyone who wanted to take part. And if, like us, you like the idea of jumping out of a plane, but are just a little too scared (or a big bit scared) to do so, take a look at this video of jump virgin Janet as she braves it for Supershoes! Way to go, Team Blum! https://skydive.shredvideo.com/f/nTy0TSTuVH