Although the weather has been throwing all kinds of challenges at us, I hope you've enjoyed a little break at some point. The Supershoes office has been closed for two weeks, to give us a well-earned rest, and now we're back, it's full-on with shoes once again.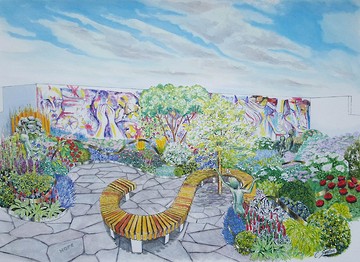 Many of our Super Artists have been painting shoes over the break, and they tell me it feels like a holiday, now and again, to shut themselves away for some peace and quiet, with their paints, a pair of trainers and simply create. And the shoes they've sent back have been absolutely awesome, as always. Check out the latest photos on our Gallery.
I've had a short break away from the office, and have enjoyed recharging my batteries, although I'm very much aware that for families of children with cancer, taking a break is simply not an option.
And the subject of hope brings me on to something else that's very much on my mind at the moment: the Supershoes Laced With Hope garden for RHS Chelsea, which will start construction in just a few short weeks. We've been posting news and photos in our newsletter, to give you a little taster of what's to come.
If you'd like to be added to the monthly newsletter mailing list, please add your details to our 'GET UPDATES' section at the bottom of this page.
April is also the beginning of another season: the new financial year. Don't worry; I'm not going to wax lyrical about the joys of spreadsheets and tax returns, heaven forbid! But the thought of a new start does make you take stock of what you already have. And what you already have can bring surprises, once you start looking around you. Try your own "mini-audit"! There's a lot to be grateful for out there.
With peace, love and gratitude
Sarah x