t's a big week for Supershoes this week……
Not only do we mark our 2nd birthday but we also despatched our 500th pair of Supershoes!
I want to say a massive thank you to our Trustees and Volunteers. Especially our volunteer Super-Artists whom have made this possible, giving their time and talent, they show such kindness and commitment.  They are incredible superstars, shining a light in dark times, with each and every brush stroke.
I recall the early days, Ken and I really did set out to reach 52 children per year! We thought that would be realistic & manageable, but the more children we met and the more connections we made with families, we knew we had to do more and we could only do more with more artists and more funding. Thankfully we were blessed with both.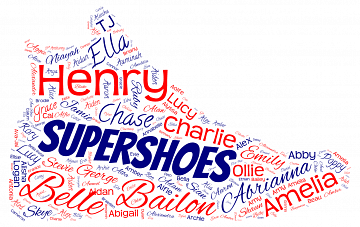 A massive thank you to everyone who has supported Supershoes. From businesses such as Sure2Door, Aztech IT, Castle Vehicle Leasing, Frosts and Boxx Communications to name a few, for their continual support, to individuals who share our posts and retweet, donate and sponsor when they can.
Organisations like GOSH, Keech Hospice, the WI and other charities CLIC Sargent, The Henry Allen Trust, The Amelia-Mae Foundation, we love working with you. We simply could not have reached 500 super brave children without you all!
The 500 names in this image are the first 500 children to receive the gift of Supershoes. Every one of them a Superhero! Thank you Tracey from "Something a Little Special" who kindly donated this image to mark our 500th pair of Supershoes…
Every one of these children has touched our hearts with their courage and strength. They have inspired us to meet our challenges and do all we can. It has been the biggest privilege to take tiny steps on their journey with them.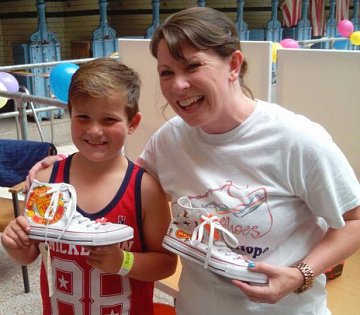 Sadly some of these children are now angels. Having given everything in their courageous fight against cancer, they did not make it. Families left torn apart. I hope and pray that the gift of Supershoes provided a positive moment that is now a fond memory for these families to find some comfort. I hold these children and families in my heart and they encourage me to do more.
A big thank you to my friends and family who share the Supershoes journey.
With Peace, Love & Gratitude
Sarah xx