We know you love to read our news articles! Well, in this month of Childhood Cancer Awareness, we'd love you to read this very special news item. We could have edited it, but it's so beautifully and powerfully written, that we wanted Jessica's words to simply speak for themselves.
"Hello, I just wanted to get in contact to say thank you so much for the shoes you sent me last year. I'm so sorry that I haven't been in touch before now, I've been extremely ill the past year and I honestly just forgot that I hadn't messaged you. I just want you and the fabulous artist to know just how much I appreciate the shoes and that they really mean the world to me. I got them at a time when I'd been struggling a lot with my chemo and had just been in hospital with Sepsis. They made me smile a lot then at a time when I was struggling to appreciate the joys of life and still continue to now. I will cherish them forever
Please say thank you to Mandy for her kind note and incredible artwork. I love Harry Potter so much, she really captured all of the elements of the Prisoner of Azkaban so well. I'm sorry that she had so much painting to do with my massive size 9 shoes as well, haha.
I'd be happy for you to post some photos of the shoes to let your incredible artists and sponsors know just how much they meant to me."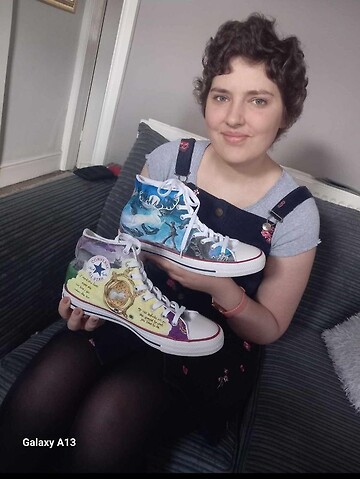 Super Artist Mandy was only too happy to create Harry Potter-themed Supershoes for Jessica, featuring the Prisoner of Azkaban. Although Jessica jokes about the size of her shoes, the extra canvas gave Mandy space to create something very special for this young lady. Jessica's Supershoes were sponsored by local firm Blum UK. Blum are doing an incredible job fundraising for Supershoes, and you can read about some of their inspirational efforts elsewhere in our News section.
Jessica: your words have really struck a chord with a number of people who have read them, Blum included. You've moved us to tears. Thank you for taking the time to share your thoughts so eloquently with our readers, sponsors and other families on difficult journeys. You are a Superstar!