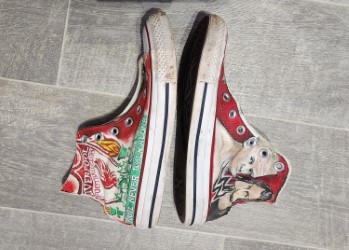 When Super Lucas' mum emailed us to ask the best way to spruce up his Supershoes, we could see just how much they had been loved and worn. Lucas has outgrown his Supershoes now, and he wants to keep them on display because they have an amazing story to tell!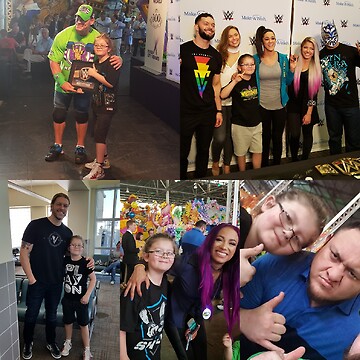 Lucas was, and is still a huge WWE fan and a Liverpool FC supporter, so this is what he wanted on his Supershoes, back in 2018. His mum says, "Michelle was his Super Artist. I will be forever grateful for the spring you put in my sons step ♡I cannot explain how much joy these shoes brought him going through treatment. He was/is so proud of them."
Lucas wore his Supershoes every day, until they became too small. They went on an amazing adventure with him too. Here's what his mum told us, "We went to Wrestlemania34 in New Orleans back in April 2018 and met a few of the superstars; they were in awe of the shoes. Lucas was fortunate to get the opportunity to "wrestle" John Cena and they spent the first 5/6 minutes discussing the shoes! It was magical."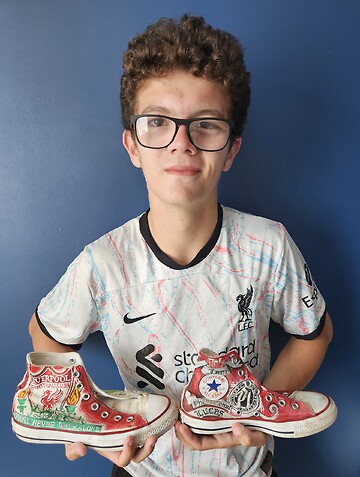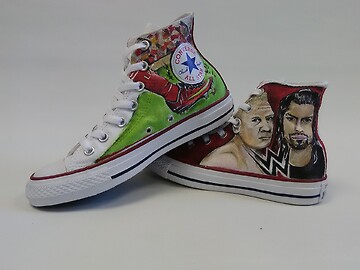 We were so thrilled to hear from Lucas' mum and to see that Lucas is doing well. Lucas wanted to share his experiences with his Supershoes to encourage everyone to wear their Supershoes whenever possible, because magical things happen when you do!
And in case you were wondering, try a light sponging with Fairy liquid soap for the canvas, using a soft sponge, and a slightly more abrasive sponge for the tongue (which is not painted). You could try the more abrasive sponge for the rubber bits too. To dry the shoes afterwards we suggest stuffing them with newspaper or kitchen towels and leaving them in a warm room, but not in direct sunlight. We don't recommend putting them in the washing machine, as this can crack the paint. Our best recommendation for Supershoes, though, is to wear them and wear them straight away! Wear them often and wear them with pride!