This week is Volunteers' Week, and at Supershoes, we're jumping for joy at the prospect of celebrating our wonderful volunteers who all step up to the plate week after week, giving their time and talents to help out.
We have a spring in our step as we look back on the 5000+ pairs of shoes we have created for youngsters undergoing treatment for cancer. We know our Super Artists really do walk a mile in the shoes of every child they paint for; the special messages that go into the boxes with the Supershoes say it all. Our Super Artists come from every walk of life, with two things in common: a talent for artistic creation and a passionate desire to make things a little bit better for children and young people with cancer. A pair of Supershoes is often a step in the right direction on the bumpy road to boosting wellbeing.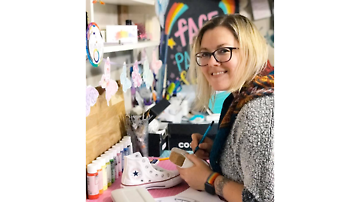 And behind the awesome artistic talent that's on show on every pair of Supershoes, there's yet another team of Super Volunteers, spending hours phoning parents to get one step ahead by discussing the shoes, arranging the dispatch of shoes to Super Artists and to youngsters, managing our office and its huge database, answering emails, writing content for social media and our website and a million other tasks.
It's no walk in the park sometimes, keeping up with the volume of referrals we get each week from our awesome partners YLVC and GOSH, but everyone here is part of a team, and we take it one step at a time, just like the families we support. Leading the team is another group of volunteers: our amazing Trustees, who are with us every step of the way as we do whatever it takes to bring smiles and fun into the often-overwhelming world of cancer treatment.
That's why we're shouting out a huge "thank you" to all our volunteers: not just this week but every week. A mere "thank you" hardly seems enough sometimes, but you only have to look at the photos of our Super Brave kids to know that a pair of Supershoes is a huge help to them as they take the small steps each and every day on their cancer journey.