Cairon had thought about a charity fundraiser before, but didn't expect he'd feel drawn to do one so soon, and in memory of his much-loved father. Cairon lost his dad in August 2020 to cancer. He was only 70 and, in Cairon's words, "gave a lot of his life to working with young people" as a Scout leader for over 20 years. Cairon has chosen Supershoes as one of three charities to support for what is a particularly impressive challenge, as he says his dad would appreciate the fact that young people would be helped by him raising funds.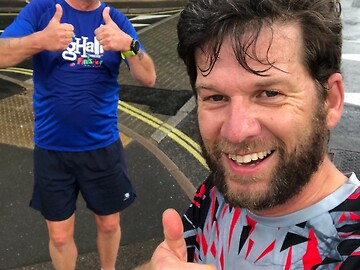 An experienced marathon runner, it seems nothing fazes Cairon, who has previously competed in the Berlin, Chicago and New York marathons all in the space of 8 weeks! With 15 marathons under his belt (trainers?), Cairon looked at the Serpent Trail ultra-marathon, at 100k, and thought, "How hard could it be?" Well, we could have helped advise on that one, Cairon!
Referring to it as a "little run", as he does, may well help with training, and working through a back muscle injury during training will certainly contribute to the challenge, but Cairon is determined that it will be done. He tells us that he's up to marathon distance now, ready for the Petersfield Marathon in May. Please look after yourself, Cairon!
If you're able to help this ultra-warrior reach his goal as he follows the Serpent Trail through the beautiful South Downs National Park on 3 July, by sponsoring him, you'll be helping him no end with his motivation. The link to his page is here…
By donating, you'll also be contributing to 3 amazing charities, Supershoes being one of them. We're so grateful to you, Cairon. Stay strong, and we look forward to a finish line photo in your Supershoes running vest!
Cairon tells us, "My dad would've appreciated your charity. Even at his most sick, he worried more about everyone else, especially the kids on the cancer ward."
We know you'll have your dad with you in your heart as you train and complete your big challenge, Cairon. He will be very proud of you for sure. Now, Run, Cairon, Run!