Like any other special day celebrating special people, National Superhero Day is, of course, not just on 28 April, it's every day. I think I can safely say that everyone will know at least one Super special person who regularly makes their day/week/month/year and about whom they regularly say, "thank goodness for…[insert name(s) here]". But all the same, it is nice to have a particular day when we can shout it from the rooftops, isn't it?
I'm so glad to be able to share the Superheroes in my life with you in this blog. And I'd love to hear about the fabulous people in your life too. Read down a little further to find out exactly how you can now share them with everyone!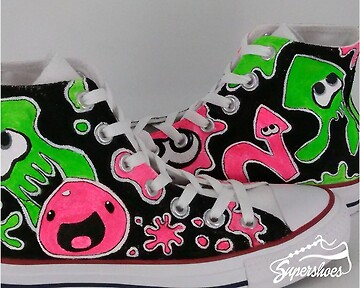 For those of you who didn't already know, I'm a Super Artist, as well as CEO of Supershoes, so if I had a huge can of spray paint and an enormous blank wall that was legally available to me, there are a few groups of people, I'd write about, in massive letters and pictures! So, while I tell you about them, do get thinking about how you might do the same for those people who put the "thank goodness for" in your life, because there's something exciting coming up…!
In no particular order: • Members of my family, who keep me grounded, make me laugh, hug me when I'm down, support me through everything and make me the person I am, as well as reminding me of the person they'd like me to be! I could not do what I do without you all.
• The Super brave children and young people I speak to and hear from every day, on their cancer journeys, facing horrible, harsh treatments, uncertainty, the rollercoaster of ups and downs that cancer brings. Your strength and resilience are something else.
• The doctors and oncology care teams who support, treat and cherish those children and young people from diagnosis, through treatment and years of aftercare. You give your time, skills, knowledge and empathy in your crucial roles as a matter of course and equally to every person who comes through your doors.
• The parents of those young people who go through everything their children do. They share the agonies, the hopes and fears and the triumphs in equal measure. You are the anchor in their lives.
• The Super Artists who, time and time again, produce unique gifts for Super brave children and youngsters. Almost 4,500 pairs of shoes so far have been painted and every single pair is as different as their recipient. They truly understand the meaning of individuality.
• The Super Volunteers who give their time and variety of talents to keep the Supershoes charity going: administration (you have no idea how immense a task our administration is!), liaison with Super Artists, dispatching shoes to artists and children, marketing, graphics, IT support, contact with parents and CLIC Sargent teams, and all this during the past year when everyone's patience and tolerance has been stretched further than we all imagined possible. You make it all happen behind the scenes.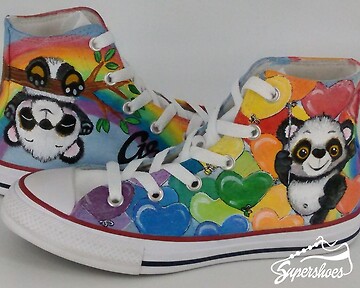 In the absence of cans of spray paint and an enormous wall, Supershoes has done the next best thing. We are thrilled to bring you a new venture: a virtual message board. We've been trialling this and it's proved very popular, so we'd love to share its possibilities with you all. And we intend to create more message boards in the future too, for similarly, uplifting, loving, supportive messages. We believe very much in sharing the goodwill and good thoughts, as it benefits everyone in making a truly positive space to bring everyone together in mutual appreciation. We'd be so honoured if you'd like to be part of our very first message board in this National Superhero month. We're asking you to share a message about your particular Superhero, so we can all appreciate their awesomeness too! Here's the link you'll need.
It's really easy: choose your Superhero, type up your message and hey presto, there it is! Actually, thinking about it, maybe it's not so easy, as perhaps, like me, you have many Superheroes. Ok then, post as many messages as you'd like: the board's all yours!
With peace, love and gratitude
Sarah x