At Supershoes, we work with some truly inspiring people. At the heart of what we do, are the inspirational children and young people on their cancer journey, each one a Super brave warrior in their own right. Alongside them, are their families and friends, who tell us how these precious individuals inspire them daily in their own lives, even, and maybe especially, when their journey ends far too soon.
One such inspiring person is Maris, proud, loving mum to Angel Frank. We wanted to share Maris' story with you all and show you how love, hope and creativity has helped her to make something truly beautiful to help others and to pay it forward.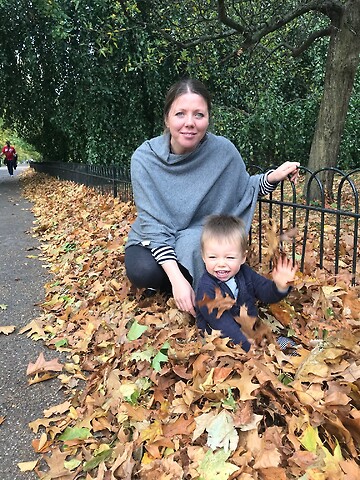 Frank was just about to celebrate his second birthday, when he was diagnosed with T-cell Acute Lymphoblastic Leukaemia. We made Frank a pair of Madagascar-themed Supershoes to give him a boost and make him smile. Maris tells us that Frank was so happy with his Supershoes: "He spent the happiest of days wearing them both inside, and when we took him out in his buggy." Frank's treatment had caused him to have major mobility problems but when he received his Supershoes, they made him want to get up on his feet again and try to walk, in spite of all he'd been through. Frank gained his angel wings just four months after diagnosis. He went on his final journey wearing his treasured Supershoes.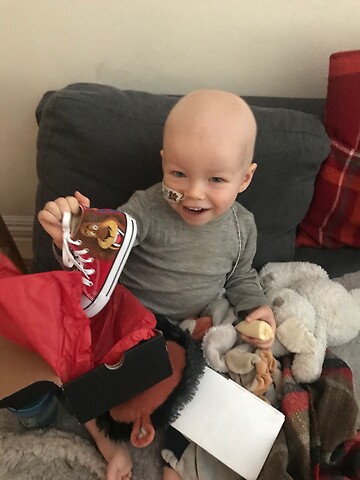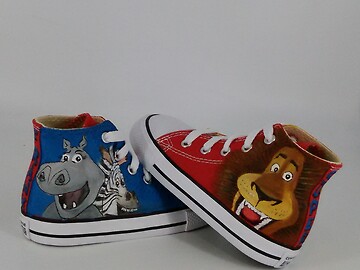 Our love goes out to Maris and her family as they come to terms with a different kind of life. Maris tells us she has found that turning to painting has helped her greatly to deal with her pain and grief. Creating her artworks using a variety of media, has given her an outlet to express her thoughts and emotions, which she does beautifully. You can browse her pieces here. Maris donates a percentage of the sale of her beautiful works to fund research into the cancer that Frank had. How generous that she is helping others in this way, to help raise awareness and work towards putting an end to this cruel childhood cancer.
And Maris' generosity does not stop there. In memory of Frank, and to help other children and young people with cancer, she is currently creating a very special oil painting, to be sold in aid of Supershoes. We'll be able to share details of that with you all once it's complete.
In the meantime, Maris and family, we send so much love and thanks to you all, and wish you peace of mind and comfort in creating beauty from heartbreak.