"Serendipity": it's one of those great words that's so much more fun than "chance", "fortune", "fortuity", "accident", I believe!
And it was serendipity that made something rather magical happen for Supershoes in the bleak autumn months towards the end of last year. Let me tell you this rather lovely story…
I have 2 dogs. Back in November, with one of them (Shelby) still in her naughty puppy phase, I would walk them early in the mornings to avoid the embarrassment of other people seeing how mischievous she was (and still is, actually!) and assuming I did no training with her whatsoever (I do lots, in fact!)
This particular morning, I crossed paths with a fellow dog-walker, called Heather, who, to my relief, had an equally naughty puppy (Frank) of the same age. We were walking in the same direction, doing a bit of naughty puppy one-upmanship (I can't remember who won!), and then the conversation turned to work.
It turned out that Heather was going through the challenging business of having to furlough staff from her PR and marketing business, and we spoke about our hopes for brighter days ahead. When the conversation turned to what I do, and I explained about Supershoes, her reaction was immediate and utterly heartwarming: "Can my company do something to help Supershoes?" And there began a wonderful partnership with Brand Mission, in the middle of a park, just outside Milton Keynes!
Heather and Brand Mission began working with us in November, and I got to experience first-hand how they work with their existing clients. We began with their initial assessment to identify areas of the charity needing development and then set to, making plans and targets. What a difference this has made to our business strategy! Thanks to Heather's help and advice, we have had a huge amount of coverage in local press, and I'm confident that our planned campaigns for the year will help sustain our growth as we emerge from the challenges of Covid.
Brand Mission is a full-service communications agency specialising in Public Relations and Marketing, and working with Heather has truly opened my eyes to how essential a creative, thorough approach to marketing is to any business. When someone starts an enterprise, in any sector, including the charity sector, it's usually because they have a drive and passion to work in an area, with a product or service that fires them up and is all-important to them: it's often referred to as your "why". The trouble is, that business owners tend to be experts in their own field, and less expert at some of the peripherals of business ownership, marketing being one of those key skills. Getting your message out there is so important. You can't just leave it to chance, or serendipity, although how you choose your marketing expert for your business can involve some serendipitous networking, as I have found, to my great good fortune!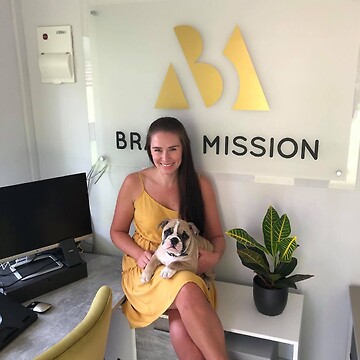 Thank you, so very much Heather and Brand Mission, for your friendship, enthusiasm and your professionalism, from all of us at Supershoes! Here's to a long and creative partnership.