A huge thank you from us at Supershoes to any and all of you who supported our January raffle. Thanks to your generosity, two children will benefit from the gift of Supershoes to make their day/week/month/year. One Super brave little boy, Kaston, received his Supershoes as he returned home from a stay in hospital, and you can really see how they made his day. The second pair is for the lovely Ava, who you can see is proudly wearing her Supershoes in the photo (below).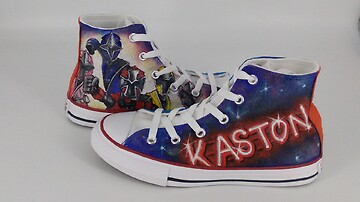 They're in love/will be in love with their Supershoes, and we're feeling the love too this month, and hope you have a little bit of extra love in your hearts to "Show the Love" in February, and maybe even for the months going forward too. If you're wondering about buying something for the one you love this month on Valentine's Day, why not get them a raffle ticket, either for February, or for the whole year?
A £2 raffle ticket buys you the chance to win £50 in our February raffle. If you'd like to help out each month, you can buy tickets for each of the 11 months left in 2021 for £22. That way you'll have 11 chances of winning! 100 raffle tickets sold equals 2 pairs of Supershoes. That's another 24 smiling faces over the year. What better way to send love to someone?
Your money will go directly to fund pairs of Supershoes each month for children and young people with cancer in the UK. We know, from speaking to parents, how much the gift of a pair of Supershoes means to a very poorly child: how much joy they get from seeing all their favourite things painted on their very own trainers. They can't wait to get up and about to show them off; it gives them a huge boost to their morale and self-esteem at a very challenging time in their young lives.
Show the Love to the one you love this Valentine's Day and some of our Super brave children and young people will benefit too – it's got to be a win-win! Here's the link you need.