Supershoes is beyond excited to share our awesome news! We have just delivered our 5000th pair of Supershoes to Super Henry! Henry was diagnosed with Lymphoma in 2021 and the day before he received his Supershoes, he had a final surgical procedure, which marks the end of his treatment and a very exciting week for him in more ways than one.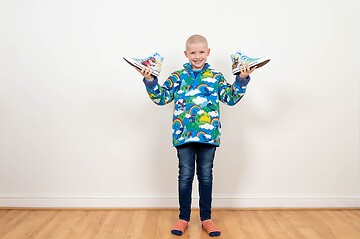 Just look at Henry's little face, as he receives his Supershoes, featuring his favourite characters from Frozen and Scooby Doo, painted by Super Artist Krystle, and beautifully photographed by our special, talented friends Niki and Mark at Ingenious Photo Genies. Their special photo shoot for Henry truly captures the emotion, love and joy in the room that day, doesn't it?
Super Henry is almost 8 years old (the same age as Supershoes, as it happens!) and this very special pair was delivered to him by our CEO, Sarah White, who founded Supershoes back in 2013 with her husband, Ken.
Back then, Sarah and Ken set themselves a target: to deliver 52 pairs a year, one pair each week, to children undergoing treatment for cancer. They wanted to bring a smile to the face of a poorly child in the shape of a unique gift: a pair of hand-painted trainers, featuring all the things that child loves: animals, cars, colours, tv characters and so on.
And in 2022, not only did they achieve that target, they went stratospheric with it! Since 2013, instead of smiles for 416 children (and their families), Supershoes has reached 5000 children and the requests for shoes for youngsters with cancer just keep coming, and Supershoes keeps delivering. To put this into perspective, using an average shoe size, 5000 pairs of Supershoes laid end-to-end would be 11.5 times higher than St Paul's Cathedral, or the length of nearly 17 football pitches!
Of course, all of this would not be possible without the most amazing team of Super Artists, who create these mini-masterpieces in their own "spare" time, the Super Volunteers who tackle the huge administrative tasks: phoning parents to check the brief for Supershoes and arranging the delivery, the dispatch of shoes to artists and youngsters, maintaining records and databases, responding to emails and the Trustees who work hard to ensure the smooth running of the charity, and most importantly You!!! Yes, to any of you who have donated and continue to donate to make it all happen, we thank you all so, so much. Just look at what you've helped us achieve!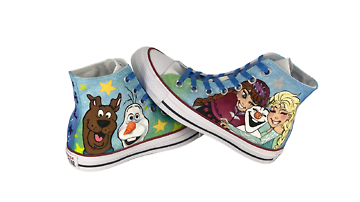 Super Henry is a very special little boy for sure. His family knows it and we at Supershoes HQ know it too. Not only does he have a milestone pair of Supershoes which we know will make him smile for a long time to come and bring some joy into his world, but he stands for the other 4,999 children and young people who have also received a pair of Supershoes. Let us remember that 5000 pairs mean 5000 children and young people going through some gruelling, heartbreaking, tough times. For all of these brave souls, their journey goes on, not just on the day they receive their gift, but for weeks, months and years to come. And let us never forget amongst those 5000 the angels, who could fight no longer. Our hearts are with you all. We will never stop fighting for you all. Here's to the next 1, 2, 3, 4, 5000: however long it takes until we find a cure for childhood cancer.