"You have cancer." Stark words and a terrifying diagnosis that one in two people will receive at some point, according to statistics. Now consider this: "Your child has cancer." Eleven families every day in the UK hear those heart-breaking words.
Childhood cancer has a particularly emotive ring to it, because a child is innocent, just embarking on a life with so much hope, so many dreams, with so much optimism and ambition. To interrupt that life, so early, in such a way, seems especially cruel. The good news is that the prognosis is positive for many childhood cancers. But it comes at a cost: the treatment journey and the lifelong connection to cancer make it very tough for everyone involved.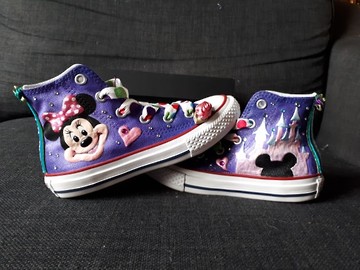 How do you bring a smile to the face of a very poorly child? There's a whole raft of people trying to do just that, from awesome nurses, doctors, play therapists and the special team of CLIC Sargent social workers, to other charities helping to bring some fun into the rough, harsh, daunting world of cancer treatment.
Here at Supershoes, we're also doing our bit. As a national children's cancer charity, Supershoes creates the most beautiful, individual, unique, customised shoes as a gift for children and young people under 19, living in the UK and in treatment, or receiving palliative care for cancer. You may already know this. But when we say "unique", we really mean it. And read on, because sometimes, ordinary "unique" isn't enough. Sometimes, our Super Artists have to go even further. And when they do, something very special indeed happens.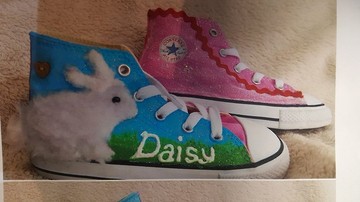 As if being a child and having to deal with cancer wasn't bad enough, imagine, if you can, how it might be if that cancer caused you to lose some, or all of your sight? It happens. But our Super Artists never fail to amaze us with their inventive, creative spirit. Combine that with a "nothing too much trouble" mindset, and look what they "can-do" for children with limited, or no vision. Here are four examples of Super-special sensory shoes that we'd love to share with you…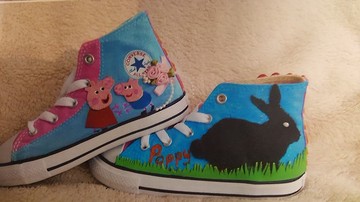 Super Artist Glyn's story…
"The little girl I was creating the shoes for had developed optic tumours behind both eyes and had lost her sight. She had two special pet rabbits that she loved, and she also liked Peppa Pig and George. She'd also requested sparkles on her Supershoes.
I realised that she would need to feel many different textures in order to get the most out of her Supershoes, and so I had to think of how to make each side different, not simply using raised paint. I used a soft, fluffy, fur fabric for the rabbits, with little buttons for eyes. I carefully sewed the rabbits by hand onto the shoes, so they wouldn't come loose when touched. I wrote their names using 3D textured paint. For Peppa and George, I used soft leather. Then the challenge of the sparkles. I found some lovely white net with diamantés embedded into it, which I stitched round the edge of one side of the shoes. I then got one of my grandchildren to shut their eyes and tell me what they thought was on the shoes. She guessed the rabbits straight away.
It was a very humbling experience; even more so than painting "normal" Supershoes, as I needed to include elements to make up for the loss of one of the primary senses."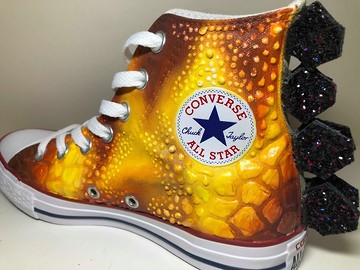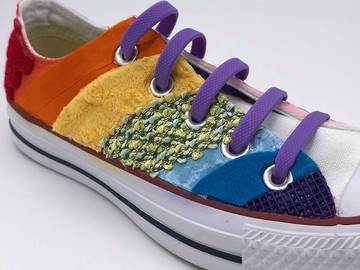 Super Artist Amanda's story…
"I used acrylic dimensional paint to add texture and pattern for the scales of the dinosaur. For the unicorn and rainbow pair, I wanted each colour of the rainbow to have a different texture, so that the child would be able to differentiate each colour separately. I made the unicorn soft to touch, with a smooth shiny horn. When working on sensory shoes, I feel it is still important to make them visually pleasing and to try to include as much detail as possible. Then they will be a great talking point and give lots for the Super-brave child's friends and family to talk about and describe to them."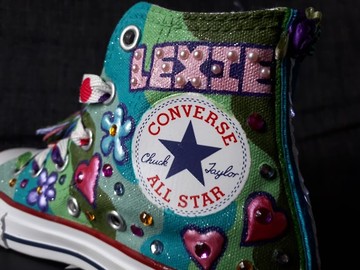 Super Artist Elanor's story…
"I really enjoyed making these shoes. The textural element was a new challenge for me. I used 3D paint, which I've not used before and added velvet ribbon and sequin trim at the back, with diamantés for extra texture. The little girl I was making these for is partially sighted, so I tried to keep the colours bright and contrasting. I also added her name in diamanté Braille, using an online guide to help. I made some tassels to hang off the front of the shoes for extra 'touchy-feelyness'."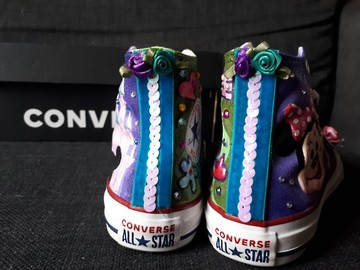 As you can see from all the photos, these shoes are indeed Super-special. We're sure you can imagine how much thought and work went into their creation. We couldn't be more proud of all our Super Artists, who put themselves out time and again, to create beautiful and meaningful gifts for sick children, and help to bring a smile to their faces during their daunting cancer experience.
Supershoes' extra note: We should add here that these sensory shoes are Super-special Supershoes. We don't usually add extras like tassels, lace, or anything that can be removed, to our Supershoes. However, we made an exception for these particular children, because of their unique circumstances.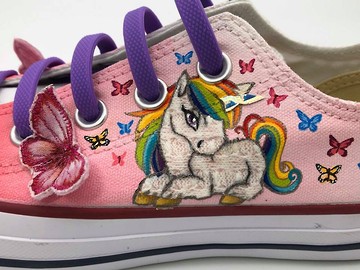 If you'd like to find out more about how you can help Supershoes empower children and young people, we'd love to hear from you. Simply go to our website www.supershoes.org.uk and click Contact. Or take a look at our Gallery. You'll be one of the lucky ones: you can see how beautiful these shoes are…
Supershoes would also like to let you know about World Sight Day on 10 October. You can find information about this special day here.