Along with February being the month of love, it seems very appropriate that today is Random Act of Kindness Day! And it's no coincidence that it was a random act of kindness that led to the setting up of Supershoes back in 2013. I'll explain…
In 2013, I read in my local paper about a little boy called Henry Allen, who had cancer. He lived nearby, and his story touched my heart. I wanted to help in some way, but I wasn't quite sure how. And then it came to me. I'd get Henry a special pair of shoes made, with all his favourite things on them: cars, lions, dinosaurs and Lego. A friend of mine, Rebecca, is an amazing artist, and I asked her if she would paint the shoes. She did an awesome job, and Henry got a very unique present, to make him feel special and to bring a smile to his face.
The story doesn't end happily, unfortunately. Henry lost his battle with Neuroblastoma and passed away a week after he received his shoes, at home, with his family around him. I was so sad that this cruel disease had claimed another young life, but glad that I had been able to do at least something. I couldn't save Henry, but this random act of kindness led to something I couldn't have imagined five and a half years ago.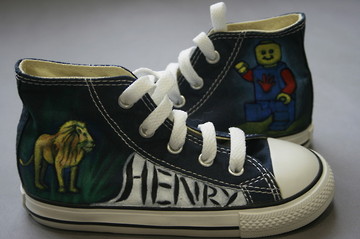 In 2019, we will send out our 3,000th pair of Supershoes. That's 3,000 random acts of kindness just in pairs of shoes. And it doesn't stop there. You see, kindness breeds more kindness. This is how it works: A pair of Supershoes costs £50 to create. Every Super Artist who gives their time and talent to paint, is performing a random act of kindness. Each volunteer who keeps our administration going is doing likewise. Every single person who donates to create a pair of shoes is carrying out a random act of kindness, because they have no idea when they donate, who will receive the shoes that their money is funding.
And what links all these (random) people? A want and a need to help. Everyone is united in one aim: to help a child they've never met, will probably never see, but someone who needs kindness in their young life more than they've ever needed anything. At Supershoes, we can name almost 350 volunteers who are happy to take part in random acts of kindness every day, week, month, or however often they can. And what of the lovely people out there, who donate to Supershoes, how many of them must there be? We have no idea. We're simply so, so grateful that they're creating their own random acts of kindness and directing them to Supershoes. We do know that there are an awful lot of them out there who just give because it's a kind thing to do. Thank you, each and every one of you.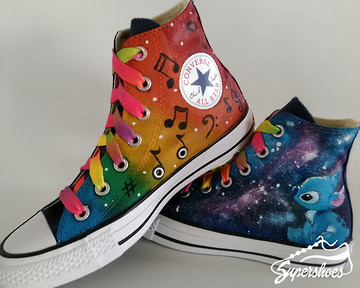 Random acts of kindness make for a win-win situation. They do good, and make you feel good. At Supershoes we'd like to continue sending out our "random acts of kindness", aka pairs of Supershoes, for as long as necessary, to make children with cancer feel super special.
What do you fancy doing on this Random Acts of Kindness Day?
With peace, love and gratitude
Sarah