September is one of those months that feels like the beginning of something, isn't it? I think it's because even if you don't have children of school age, we can't quite get away from that "back to school" vibe that seems to descend at this time each year. For many of us the holiday season is over, and it's a matter of getting back into the routine.
For me, that means "Manic Mondays" return! I love Mondays and let me tell you why. It's our main dispatch day at Supershoes. I get to see all the beautiful Supershoes, created with so much love and laced with hope by our team of heroic Super Artists. I get to phone families of super brave children and give them some great news: their Supershoes are ready to be sent out! I can't tell you how great it feels to be ringing with lovely news for these special people, because they so deserve some happiness. In the world of childhood cancer, phone calls are so often the very opposite of good news; at the very least they're about hospitals, tests, appointments, check-ups: each one a not-so-welcome reminder of that difficult journey that they never wanted to take.
I get almost as excited as the families, when I confirm their next-day delivery of the very special gift of Supershoes. And it's so great when they send us pictures of their children with heart-warming smiles, and the message that their Supershoes have made their day.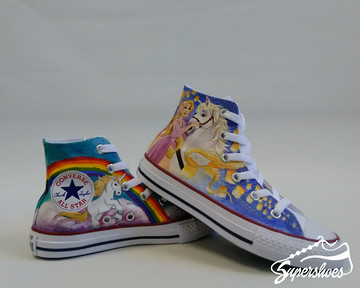 The first Monday back after our summer break means a bumper crop of Supershoes to send out. It's a lot of work, but we know that every box we parcel up means that another child battling cancer is given a boost to their day. It's a very special job, and we're so happy to do be able to do something that brings happiness and hope.
September is also childhood cancer awareness month, and it would mean a lot to us here at Supershoes, and all the children we're trying to reach, if you would spare a moment to think about what you could do to help us. We're wearing our gold ribbons with pride this month to raise awareness, and there's so much more we'd like to do. With your help, we can do a little bit more to fight for these children, raise awareness and work together to find a way to beat childhood cancer once and for all. Please get in touch. We'd love to hear from you. And whatever you're "going back" to this month, may it bring you happiness.