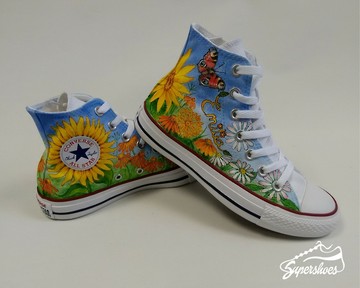 I honestly can't believe how fast this year is running. Next month, the Supershoes office will be closed, although lots of us (and our lovely Super Artists) will be doing all kinds of work behind the scenes.
Summer always seems to be over in a flash, doesn't it? Perhaps it's the unpredictable English weather. But I'm not wishing it away, by any means. I'll take even a glimpse of sunshine on a cloudy day. A glimpse of sunshine is, of course, what we're always aiming for here at Supershoes. Whether it's a phone call to announce the imminent arrival of a pair of shoes or the shoes themselves arriving, I have a real appreciation of how something special can bring a ray of sunshine. And the families I'm in contact with need all the sunshine they can get, believe me.
This train of thought led me to thinking: what could we do this month to help spread the sunshine?
Here are my thoughts:
Listen. As in, really listen when someone asks you something or tells you something. I've learnt this when phoning families of sick children. Sometimes, if you listen carefully, there's more to hear than just the information you hoped to get. Those are the very special conversations that I'm privileged to be a part of now and then.
Pause a while. Some things simply can't be rushed. Super Artists will bear me out on this too. Taking things a bit slower helps you notice more, to appreciate the little things.
Make someone smile. It's contagious, you know! Smile at someone and watch them smile back (usually)! Win-win!
Make a playlist of your "sunniest" tunes. If you do it in advance, you can reach straight for it when it's a bit dismal outside, or if you're having a less-than-sunny day.
Get yourself some flowers. Put them where you'll see them often. If you're a hayfever sufferer, and you daren't do this, wear something bright instead to bring your own ray of sunshine to the world!
Tell someone about Supershoes. Help us expand awareness of childhood cancer.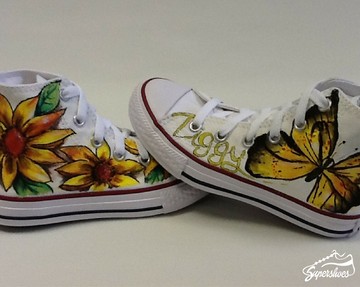 We're doing our best to spread the sunshine (all year round) to Super brave children, many of whom can't take advantage of any warm, sunny weather because of their treatment, so if you can help us with that too, it would make us smile and bring some sunshine to someone who really needs it. A pair of Supershoes goes some way, and we're always working on other ways to bring those precious rays to those who need it.
Happy Summer holidays to you all!
With peace, love and gratitude
Sarah x