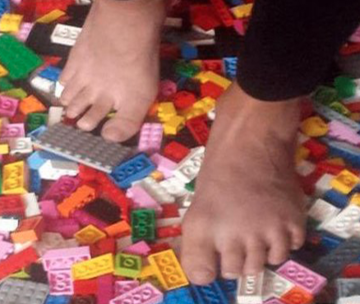 We've all heard of fire-walking and glass-walking, well now A Secret Hero is encouraging children aged 6-18 to take part in an extreme challenge event and experience the feelings that adults face when undertaking a fear-based event.
LEGO walking is fun, the kids absolutely love it, some adults say "it's payback time", whilst others join in with this insane challenge.
Working in partnership with A Secret Hero, we are thrilled to announce our Supershoes Lego Walk will take place on Sunday 16th September in Middleton Hall.
If you and/or your child(ren) would like to take part, register on Eventbrite and download your Sponsorship Form to get started.
There is a £15 registration fee, which goes to Supershoes and covers all costs associated with the event. All sponsorship monies raised will fund Supershoes.