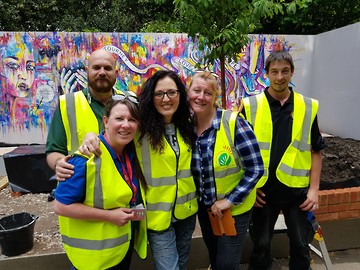 I think I may have forgotten to breathe just recently. I have to-do lists of my to-do lists!
RHS Chelsea and our Laced with Hope garden is both so, so exciting and like having another full-time job at the same time!
If you were to take a picture of the inside of my head right now, (and I'm very glad you can't!) it would contain a massive open-plan space, in which all these things are moving around, just out of reach: giant painted Supershoes with people inside them dancing, 20.000 leaflets, secret celebrities, a long, long, gold metal ribbon, guest lists, passes and tickets, beautiful sculptures, many Facebook messages, a stunning 20ft x 6ft painted wall, a million emails, videographers, photographers, paving, trees, shrubs, flowers: so many flowers.
Can you imagine?
No, I don't suppose you can, which is why we'll be updating you regularly all through the week of 21st May!
RHS Chelsea officially opens on 22 May, but you can be sure that there have been weeks of work to set up all the gardens before then. And in the two days before it opens to the public, there will have been photo shoots, press calls and the most exciting, and scary part: the judging, which takes place on 20th early in the morning, after which the designers find out who has inspired the RHS judges the most.
Medals: did I mention the medals for best gardens? It would be such an accolade to win this recognition. And between you and me and along with our Supershoes being laced with hope, and our garden being called Laced with Hope, for Supershoes, there's only one colour medal for our garden that we're hoping for: gold, for childhood cancer, of course! We're sending more than a little wish to the painting fairies, the sculpting fairies and the flower fairies to put in a good word. And it would be so lovely if the weather fairies could smile on us too.
This whole thrilling adventure has come at just the right time for Supershoes. We've been established for almost 5 years now. In childhood terms, that means we're more than ready to really show everyone what we're made of, just like a child starting at school. It feels like the Supershoes message is reaching more and more people, as we branch out further and further, learning, meeting people, gaining experiences and making our name known and our voice heard: a voice for children with cancer.
RHS Chelsea is all about visual impact, and we have so much of that in our Laced with Hope garden. Our Art Wall is dedicated to our Super Artists who give their time and talent to our mission, and without whom we could not operate. Then, there's the sculptures, the words on the paving, the ribbon not to mention the stunning planting. If the planning of it has been all-consuming, I just know that the garden will be even more than that.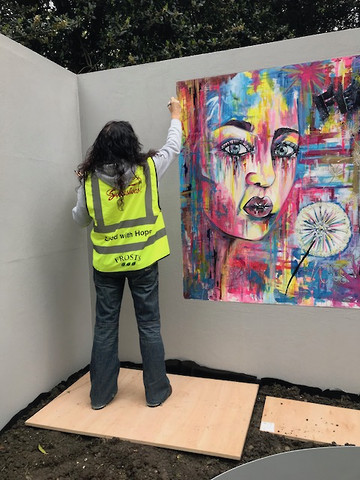 If you're thinking of getting tickets for RHS Chelsea, I fear you may be too late now, but please look out for us on the tv, and we'll be bringing you as much of the atmosphere, colour and joy of our garden as it develops and becomes the stunning creation I know it will be. Wherever you'll be during the last 10 days of May, treat yourself to a feast of beauty, joy, love, and above all, Hope.
And breathe…
Until next time, with peace, love and gratitude