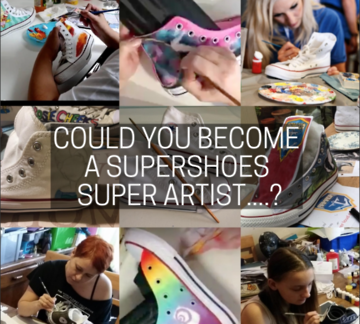 After just over 4 years of creating Supershoes for super brave children fighting cancer, we will soon be approaching our latest milestone….. 2000 pairs!
We cannot believe how far we've come throughout this time, not least in the last 15 months – Since we celebrated our 1000th pair back in 2016.
Every single one of our volunteers has worked so hard to help us achieve this and it really wouldn't have been possible without them. We are super grateful!
Referrals are continuing to come through thick & fast from our main referring partner - CLIC Sargent and in order to keep up with the growing demand for Supershoes, we need to grow our team.
Whilst we need more volunteers in every capacity – from admin to social media and everything in between - what we are focussing on right now is new Super Artists.
The role of a Super Artist isn't easy to fill. Finding the right people, with artistic talent, natural creativity and time to spare is a challenge, so we need your help……
Do you know anyone who could create Supershoes to the standard you see on our gallery….? Or if not, perhaps someone you know might.
Please take a moment to watch this video and share it with your family, friends and network.
Anyone interested in volunteering as a Super Artist, can get in touch via our website – It's super easy to do.
Please help us spread the word. In turn you are helping Supershoes reach more children!
Thank you x