Question: How many wows can you make in a day?
Answer: We lost count!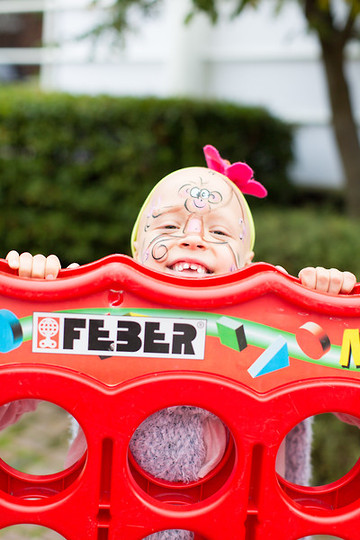 As an awful lot of very tired folk made their way home early evening on 1 October from our first Arty Party 2017, what we can say for sure is that it was a massive, awesome, brilliant success! And I, for one, heaved a sigh of relief, because I knew exactly what was in my vision for the party and I so, so wanted the reality to match. And guess what? It did! They say dream big, don't they….?
18 months ago, I had a dream to hold this party. I wanted to invite a very special community: children in treatment for cancer and their families. They so deserve a day of fun.
Families with children who have cancer say they feel isolated, even amongst their friends sometimes. The trouble is, those families facing a battle with cancer tend to meet each other in hospital, when everyone's worried, anxious, stressed and emotional. They really benefit from getting together outside hospital.
So back to my dream. I wanted this event to be huge, bright and busy. I wanted lots of people. There had to be dozens of fun activities and food. So much for the tangible. What I wanted families to get from this event was time to forget about cancer for just a few hours, within a supportive and understanding environment, with other families like them. A time to have fun all together, make some amazing art, let go and laugh and create memories to treasure. I wanted them to have a day they could look back on and smile.
Crucially, I wanted this party to be free. But big, free events like that don't come cheap and I didn't have the money. Not to be defeated, I set about seeing how we might raise enough. And, thanks to an awesome bunch of people, the money came. We did it! We made it happen!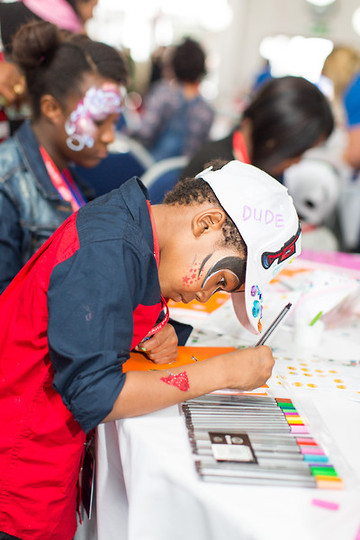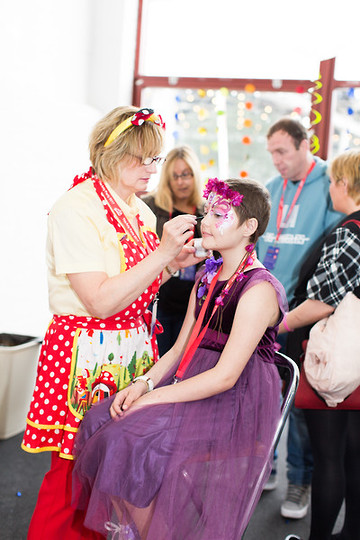 Five of my personal highlights of the day look like this:
1) It was utterly brilliant to talk to families, to get a real sense of the people we make a difference to
2) Personally presenting a pair of Supershoes that I painted, to little 15-month-old Jessica. I'm pretty sure she liked them! I also presented a pair to lovely Dollyanna on the day. To do this in person was such a privilege
3) Being helped to make kites by a dear little girl (Supershoes recipient) when I manned the kite-making table for a while and needed an experienced helper! She was amazing
4) Watching entire families having fun together
5) Stopping and standing still for a moment, and simply taking in the amazing scene all around me at one point during the day. A real "wow" moment for me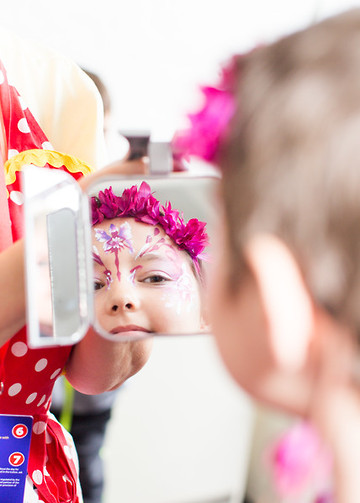 I know everyone likes statistics, so to give you more of a taste of what was utterly fantastic about the Arty Party, take a look at these:
Families: 38

Attendees: 154

Supershoes volunteers: 34

ClicSergant team: 5

St John Ambulance: 2

Individual craft tables: 12

Feeding stations: 5 (if you include Pick 'n' Mix!)
And these were just the countables. All of them vitally important, for sure. And then I thought about the un-countables for the day:
Smiles created: infinite
Amount of thanks due to so many people who contributed in so many ways: infinite
Specks of glitter spread far and wide: infinite!
Energy generated by all the children: infinite
Sighs of relief given (and not only mine!): infinite
Gratitude expressed by all those who attended: infinite
Pleasure experienced by the fantastic Supershoes volunteers: infinite
Ingenuity of those who manned the craft tables: infinite
Pride of children in what they created and achieved: infinite
Imagination used and demonstrated absolutely everywhere: infinite
Generosity of anyone who donated anything for the day: infinite
Benefit to poorly children and their families: infinite
Memories from the day: infinite
This is the legacy of a big dream. And dreams happen all the time, every night, so be sure, I'll be dreaming big into the future. Stand by for the next one.
In the meantime, bed seems like a great option! Sweet dreams!
Sarah x