Last week a resilient bunch of 16 cyclists rode from London to Brighton to raise money for Supershoes. Just look at these lycra-clad lovelies!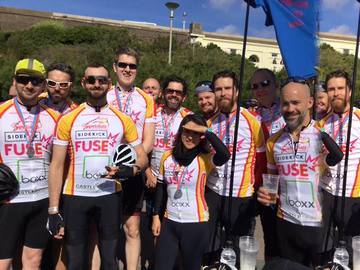 It was a super early start for those outside London as the team set-off not long after the sun came up.
They encountered a puncture after just 5 mins but luckily they stayed dry throughout and even had their own pit stop along the way - Thank you to the wonderful supporters who stood by with refreshments and words of encouragement!
Organised, by Supershoes Trustee Lucas Tyler, the team looked amazing in their very own Supershoes Cycle Shirts - They really stood out! So a big shout out to sponsors:
Fuse London Ltd, Boxx Communications, Sidekick, Castle Minibus, Emirat, Vivid, Strangehill, Spinmaster and The Character Group for helping our team look awesome.
At the time of writing, the total raised was £4,148, which is just incredible. We totally smashed our target of £2,400 into orbit! We wish there were some more superlative words, as "thank you" doesn't seem quite enough. We mean it though, very much indeed.
A big thank you to all who took part and all who sponsored!