You've got a friend (as the song goes!)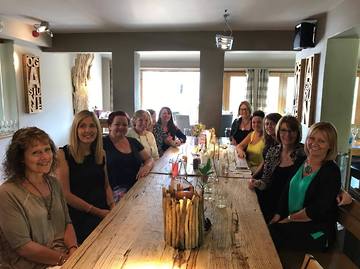 All the volunteers at Supershoes work so incredibly hard, and I can never say "thank you" enough. Which is why, every so often, we take some time out to be together (as many of us as can make it) and have a bit of fun. Today, we had a little get-together for lunch. And what a lot of fun it was! It was also necessary and important. I got to tell everyone how much what they do means to Supershoes, and they got to chat and spend time with each other as friends. We all work on different days and some of us work remotely too, so to get together and actively be part of the "tribe" is vital. It gives everyone a real sense of belonging, to rekindle friendships in person, and sometimes to start new friendships that will become long-lasting and mutually supportive.
I count myself a very lucky lady that our Super Volunteers are such a lovely friendly bunch. We had a lovely couple of hours, and I thank you all for coming and being my friends!
Time out to chat, have a giggle, and be with others who share an experience is so valuable. That's one of the reasons I've wanted to hold an event for super-brave children with cancer and their families for such a long time now…..
I'm so excited about the Super Arty Party, which is taking place in October. Having fun with others who truly understand your challenges, hopes and fears is priceless. Mums of children with cancer tell me that friendships formed at hospital and other events where they're together last a lifetime, as they share experiences. I'm hoping that the Super Arty Party will be another event where such connections can be made.
Being a parent or sibling of a child with cancer makes you a member of a club or friendship group that you never wanted to join. We want to use that day to help those facing some life-changing challenges to have a day out to remember, to build some memories and make some new friends.
Look out for more news about this in our newsletter, on our Facebook Page, and via Twitter. Don't get our newsletter? You're missing out! Email marianna@supershoes.org.uk so you can go onto our mailing list to receive it.