The traditional Christmas story tells of a long and tiring journey and finishes with a message of hope…..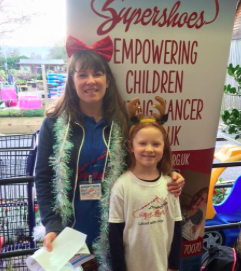 The people who made that journey did so under very tough conditions. They must have found it hard to keep going at times, to stay motivated, to keep their eyes on the final goal.
I'm sure you can all see the parallel between that story and with what we do at Supershoes. All our super-brave children face a very long journey through diagnosis, tests and treatment. They face difficulties that would stop most of us in our tracks, but they know they must keep going, and sometimes, a message of hope is just what's needed. And that's where we come in!
You only have to look at the faces on our YouTube channel or Facebook page, to see the delight and the smiles that a pair of Supershoes, laced with hope, brings: a super-special power that we pass on wherever and whenever we can.
As we come to the end of 2016, there's a tradition of looking back on significant events, highs and lows, and taking stock of what's happened over the last 12 months. For me, what's been fantastic is seeing our team of Super Artists grow to almost 200, our admin team grow to 14 and our dispatch of shoes grow to an average of 40 a week. That's 20 pairs sent out to Super Artists for painting, and another 20 pair of Supershoes sent out to children. I've delivered our 1000th pair of shoes and at the time of writing, we're up to pair number 1280!
I'm sure that 2017 will see some very special milestones too, as we work towards our 2000th pair, and I'm excited at the prospect of sharing all of our super-exciting events with you during next year.
Until then, with my very warmest wishes to you and yours. Thank you for reading and supporting us, in all the ways you do that, and with Super-special peace, love and gratitude.
Sarah xxx