Children and young people who are being treatment for cancer can often feel lost, isolated and struggle with not only the physical but also emotional challenges they face too.
Each pair of Supershoes we create are designed reflecting upon their favorite things. They are a one of a kind, unique pair of shoes, to remind a child of who they are and that they are so much more than their illness.
We know that for younger children especially Supershoes can make them feel like a superhero, that they are strong and can take on the "badies"! This can be a real boost for a child, helping them feel empowered.
Super Zak - the face of our latest campaign, at 3 years old is Batman's biggest fan! Zak thinks his Supershoes are awesome, just the right shoes for a real Superhero!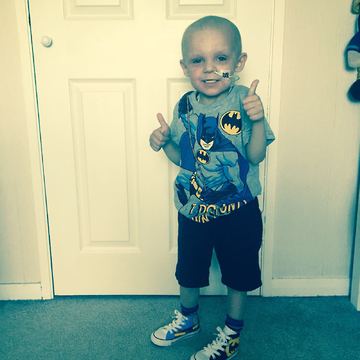 With your help we would like to reach more children like Zak and help them feel like Superheroes too.
Because we are an entirely voluntary organization, all funds donated go towards doing just that. Each pair costs £50 to make so £500 will allow us to reach 10 more children.
Whether you have a fundraising idea, are looking for a challenge or simply want make a donation, we'd be super grateful!
Thank you!