We were thrilled when singer songwriter Kim Wilde stepped forward to help raise funds for Supershoes by creating a pair of hand painted Converse trainers for our Supershoes auction!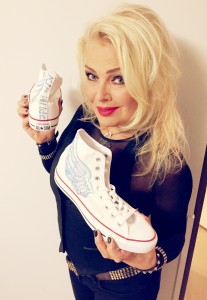 The 80's icon is one of Britain's biggest pop stars who has more recently taken "Another Step" into an alternative career in Landscape Gardening, picking up a gold award at the prestigious Chelsea Flower Show, in 2005. Her singer songwriter niece Scarlett Wilde has also put paint to canvas and created a rose themed pair of shoes for our auction. There is clearly no bound to the Wilde's family artistic talent, proving they can sing and paint!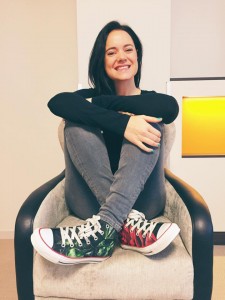 If you "Can't Get Enough" of Kim Wilde and fancy getting your hands (or feet) on one of the pairs of Converse shoes Kim or Scarlett have painted, check out our Supershoes Auction. The auction will take place on Saturday 29th November via Facebook. It's super easy to get involved, simply join our Supershoes Auction Facebook Group and we'll keep you posted on how to bid. With lot's of other exciting items up for grabs too, this auction is one not to miss!