Calling all home heroes to save the UK's charities
The Covid-19 pandemic is having a devastating effect on the charity sector and Supershoes are not alone in seeing a very significant loss of fundraising income over the past few months. This is why today we are announcing our support for this great new campaign to raise vital funds and help to save the UK's charities.
The 2.6 Challenge will launch on Sunday 26 April on what should have been the date of the 40th London Marathon, the world's biggest one-day annual fundraising event. The #TwoPointSixChallenge is your chance to be a Super Hero and raise funds from home, garden or local park!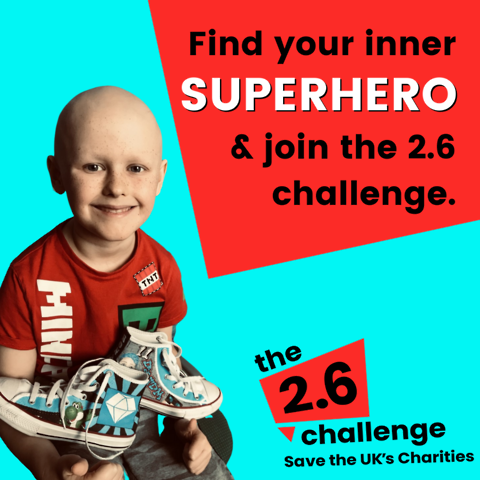 Get involved
This is a challenge for all ages and abilities. All you need to do is dream up an activity based around the numbers 2.6 or 26 that suits your skills and complete it on Sunday 26 April. This could be something as simple as pledging to run or ride 2.6 miles as your daily exercise, holding the plank for 2.6 minutes, to gardening for 26 minutes. There are no rules – apart from the Government guidelines on how to exercise safely during this time. The main thing is to get active, have fun, pledge whatever you can to help or fundraise to save the UK's charities.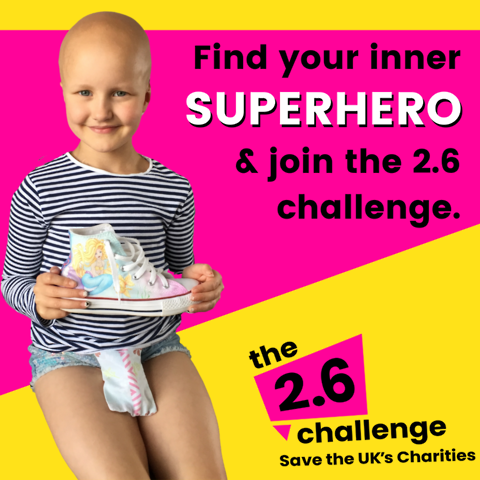 Get Your Super On!
Put on your walking shoes, running shoes, favourite shoes or funniest shoes on and do something Super for Supershoes. Use your exercise time to walk a mile in your shoes or maybe even 2.6 miles! You could do this around your house or garden if you have one, or in your park. You could always take it to the next level and get your Superhero costume on too?
Could you put your trainers on and run or walk up 26 of your stairs? Or if you're super-fit, maybe run up and down 26 times? Could you dance in your best sparkly shoes for 2.6 minutes? Maybe you could run or walk 2.6 or 26 laps of your garden or local park? How about 26 jumps on the spot in your trainers? Or 2 lots of 13 hops, one on each leg? Wow! A maths lesson included in PE – take note, homeschoolers! Maybe you could do 26 star jumps (they don't have to be all at once!) or if you'd prefer to do something a little less strenuous, how about putting on some of your favourite shoes and taking 26 selfies in 26 different poses when you go out to do your daily walk? Why not dress as a Superhero too, while you're at it?
Whatever you decide to do, we think you're a Superhero.
Please also remember to stick to all the social distancing guidelines during your challenge!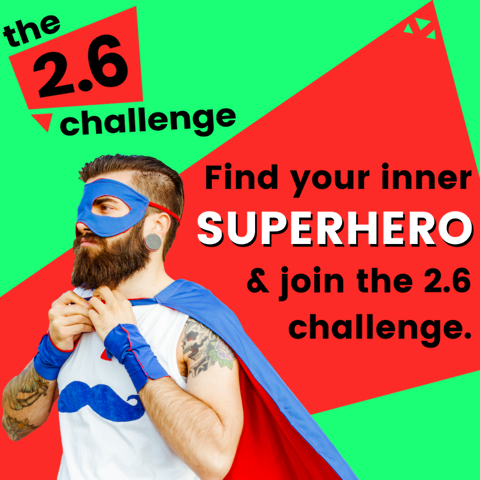 Support Supershoes
There are just five simple steps to take part:
Dream up your 2.6 challenge. For some inspiration for ideas:
Head to twopointsixchallenge.co.uk to donate £26, or whatever you can afford. If creating a fundraising page we would recommend that you use Virgin Money Giving as our platform of choice (LINK)
Ask all your friends and family to sponsor you and challenge them to do their own 2.6 Challenge
Complete your challenge.
Help to inspire the nation by sharing pictures or videos of your challenge on social media using the official hashtag #TwoPointSixChallenge to be part of the campaign.

We need you

Now more than ever, we need your help. We've seen a substantial drop in our fundraising income and by taking part in the 2.6 challenge you can support Supershoes through this tough time so that once this pandemic is over we can continue to provide the gift of hope to children and young people fighting cancer. Thank you.